My next batch of handwoven scarves was Tammy's Gems colorway in a bamboo-cotton blend. I don't think I've used this one before, but I'll definitely use it again. I love the colors!
I use so much of her hand painted yarn, but I think not everyone knows what that means, or how it happens. Here's a mini-primer.
Wind yarn off a cone into a skein, tie it in four places to keep it all together.
Lay the skein on top of a wide piece of saran wrap on the work surface. Â Paint, or squeeze, concentrated dye onto the skein in a pattern you determine in advance (in this case, three different colors).
Wrap the sides of the saran wrap over the skein, roll it up like a jelly roll, and steam it for about an hour.
Remove from the steamer, cool the yarn, and rinse it until the water runs clear. Â Hang to dry.
Here's what a skein of the Gems colorway looks like when I get it, and what the same yarn looks like after I've wound it into a ball.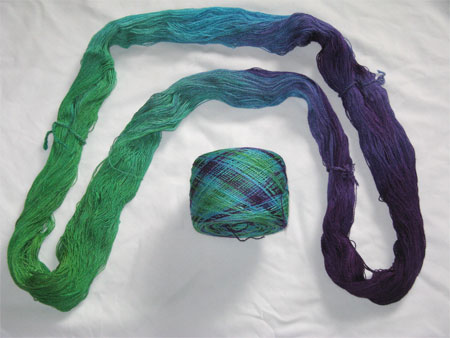 After I wound the yarn into balls so that I could work with it, I measured a warp of 180 ends over 11 yards long – enough for 4 scarves. Â  I threaded the loom for a rather random point twill, and used a simple 1-2-3-4 treadling for all 4 scarves.
Tammy had dyed me a solid green to coordinate with the Gems, and I used that for weft for the first scarf. Â Even though I'm not a green person, I liked this one.


For the second one, I used a dark purple rayon. Â I Â liked that, too.
For scarf number three I used a bright blue weft Tammy's dyed for me, and for the fourth, a lightweight lavender cotton.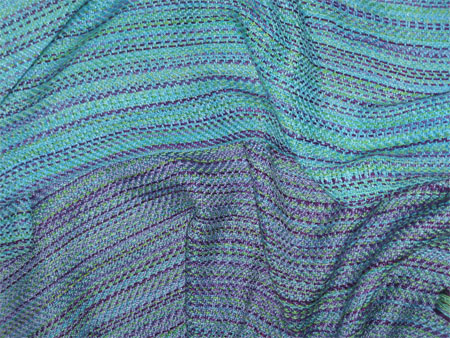 It was interesting to watch how the different colors of the weft yarn each brought out a different aspect of that gorgeous hand painted weft.
I like each and every one of these handwoven scarves. Â They're all nice and lightweight and drape beautifully. Â I think the colors are quite like the eggs lots of people are dyeing for Easter.
Speaking of dyed eggs, check out this method of using old silk ties to make really interesting and beautiful Easter eggs.