At the Roycroft show, I had my rigid heddle loom warped up and I was weaving all weekend, as usual. I have really loved the look and feel of the mohair, so decided to warp the RH for more mohair. I was quite happy that I sold a mohair at the show, since it confirmed that I'm not crazy for working with this fiber.
This time I went for a check pattern in two shades of tan, both with a heavy orange tint.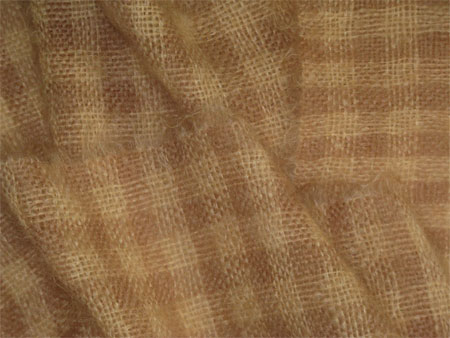 I wasn't sure how these two colors would work together, but I got lots of compliments on it while I was working, and I do really like it. They're two luscious neutrals that work well together.
This was my fourth time wet finishing the mohair, and I believe it was my most successful. I wasn't so worried about either the washing machine agitation step or the brushing step. This scarf is definitely the most flexible of the three, and therefore the softest. The first one I did, the blue & silver stripe, is definitely the stiffest. Since all three were woven at 6 ends and 6 picks per inch, it's clear to me that all the difference is in the wet finishing.
I found it interesting that while I was weaving at the Roycroft show I had a few people ask me if mohair was popular. My reply? I don't know, but it sure is wonderful!