I really do pay attention to what my customers, and potential customers, say they want. At the Kenan show, I had some requests for more cotton scarves. I don't usually do a lot with cotton other than my lace, because personally, I prefer the feel and drape of rayon & bamboo. I sure do want to keep people happy when I can, though, so I went to Tammy to see what she already had in stock in handpainted Egyptian cotton. (No time between shows for custom dye work.)
She only had one size, 5/2, dyed up. I bought two batches, Visionary, a colorway I've used before in rayon, and a new one called cayenne in rich reds and oranges. It's always interesting to me how different fibers take the same dyes, and the cotton is quite a bit darker than the rayon. Still, I new I needed to add some blues & purples to my stock, so I started with the Visionary.
I also knew I had to sett the cotton farther apart than I had previously to make the scarves softer and more pleasing to me. After all, I have to please myself before I please anyone else. So I decided on 15 ends per inch, and threaded the loom for Ms & Ws.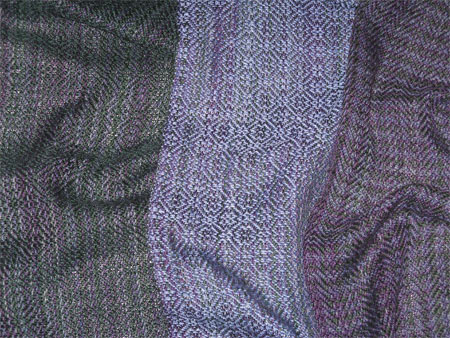 I wove the first (in the middle) using a solid periwinkle cotton weft. I particularly liked it. But for the second, I decided to go back to the 'dark enhances colors' theory. Since the Visionary yarn includes blue, purple, and green, I chose a solid dark forest green cotton for the weft (on the left), and again treadled it in the Ms & Ws pattern. It's so dark, the distinction hardly shows up at all. Well poop on that!
So for the third scarf, I used the Visionary yarn as weft, and treadled in a straight 1-2-3-4 twill. I like this one substantially better than the green.
As for the sett, 15 ends per inch was okay, but I'll make it even less dense next time around.