Yes, I've been gardening, mowing the lawn, and making jelly, but I've also been weaving. What I haven't been doing is blogging. So I'm going to cram the last 3 warps into one post.
First I wove three scarves in some of Tammy's hand painted 8/2 Tencel, in a colorway she calls Silver Linings. I used this last summer and it was popular, so decided to make some more.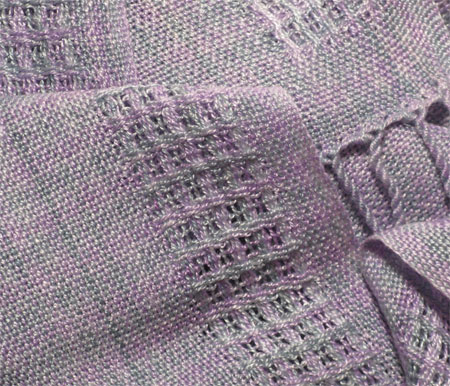 These scarves have a huck lace 'windows' border. At least I call them huck windows. I'm sure there's a correct name, but I don't know what it is. I like the various versions of huck, but this is the one I use the most.
Next I went back to working with cashmere-silk yarn. My first big show of the season is coming right up — 100 American Craftsmen at the Kenan Center next weekend — and I decided I really needed to expand my cashmere-silk stock. I'd recently ordered more, and tried a few new colors. One of them was an interesting green – sort of a sage-y spring green.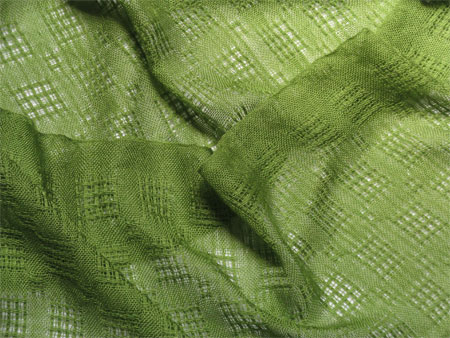 I've woven huck blocks plenty of times before; this time I decided to change it up and make the blocks alternating sizes. I find this design aesthetically pleasing. As usual, I made this handwoven lace on my counterbalance loom.
Then I decided to make some cashmere silk scarves using two different colors. I spent quite a bit of time in front of my computer working out designs. The options are endless, time isn't. So I ultimately settled on a relatively simple design that's sections of plain weave alternating with bands of twill in a second color. I had to use my Macomber for this, as I needed 6 harnesses – 2 for the plain weave and 4 for the twill.
I set the yarn at 18 ends/inch, just as I do with this fiber for my huck lace, and started weaving. 18EPI was far too loose. Even after wet finishing, the fabric is entirely unstable.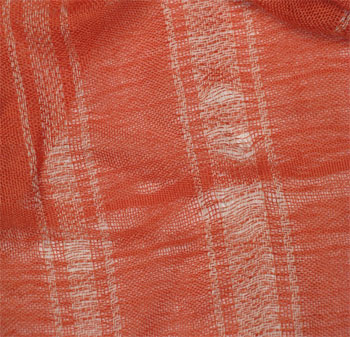 This was a case when it was totally inappropriate not to sample. Anyway, I cut it off the loom and re-threaded the reed, this time at 24 EPI.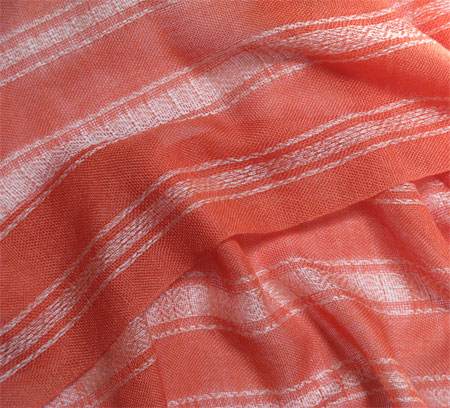 They worked up fine at this sett, but I made notes that it could have been even closer.
I'm working on a batch of 2 scarves in rayon in the same threading and treadling pattern, using 3 colors. I need to get them off today so I can twist the fringe and have them ready for this weekend's show.