I really liked the potential in the weaving pattern I'd used in the orange and cream cashmere silk scarves, even though it's extremely subtle in those scarves. So I wanted to use it again in a different fiber.
I decided on some lovely rayon I have, using a dark forest green for the majority of the warp and all of the weft, with the stripes being a pale blue offset by lavender.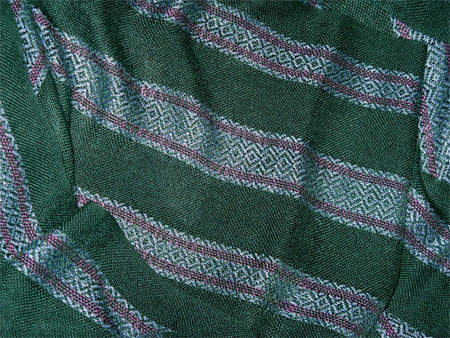 If someone showed me this scarf and the orange & cream cashmere, I'd have to pay attention to see that they used the same threading & treadling pattern. That fact wouldn't jump out at me.
Colors do funny things. That lavender turns almost completely into pink next to that light blue and crossed by the green. It's so clearly lavender on its own, and still looked mostly lavender when I threaded the heddles.
In the end, I don't know that I can say which finished scarf I like better; they're so different, and each has its own charm. I'll be interested to get customer reactions this weekend at the 100 American Craftsmen show. For which I have to go pack my clothes – right now!