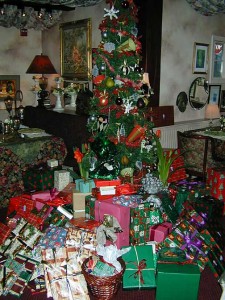 Unlike most people, and myself most years, my grand Christmas gift exchange isn't taking place this morning, but rather this evening and tomorrow. I therefore still can't post any pictures of the gifts I've made. Just know that I didn't finish making the last one till about 11:00AM today, December 25.
How did that happen? Well, yesterday afternoon I saw that I only had about 2 more hours work on what was to be the last gift I'd make, and so I said, "hey, you can make something else little!" God forbid I should simply sit and sip the last of my world-famous homemade eggnog and watch Christmas movies on TV. Heck, no! In Obsessive World, if there are hours left in the day, you're not out of time yet!
So I made something little. It was pretty quick to make (probably 90 minutes) & looked ok, but didn't knock my socks off. So I made a different something little. This one took probably twice as long, and was cute enough, but didn't fit the bill for other reasons. By now it was after 8PM. Yikes! I still needed a few hours to finish that other thing! So back to that. I didn't finish it until 11PM, and then I was off to bed.
Got up this morning and had a nice, long, lovely Christmas phone call with Margaret. Then I said to myself, "You don't need to leave the house till 1 or 1:30, you have time to make another one of those little things." So I did. When I finished I figured I had just enough time to shower, finish wrapping things (I was mostly done – primarily just those gifts I'd just finished), pack the car, and head out. I was right. Except for one thing…
I had just enough time left to write a blog post. I've been remarkably behind in posting this month, so figured I could get one more in before I headed to Amanda's. I'll have the Christmas phone call with Michael while I'm driving.
So since I can't post any pix of what I've made, I included a photo of what my house looked like every Christmas while I was growing up. (This isn't actually my house; I found the shot online.)
Merry Christmas one and all!