Just a quick post (really busy still making Christmas presents instead of blogging)…
Michael sent me this great photo of his bloodhound, Dixie, all spruced up for Christmas.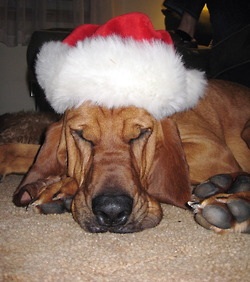 Best I can figure from long-distance reports, Dixie has two modes – this one, and a bit of bullheaded action. God forbid she should listen to her master calling her instead of following her nose. But she is adorable.
Your turn: got any cute photos of animals or people in Santa hats to share?