Although the overwhelming majority of my time this year has been spent weaving, for my September and October shows I was showing both weaving and jewelry. I hadn't really made any jewelry this year, so needed to get those creative juices flowing. I started by making some simple pieces, and then moved on to new things that were really fun to make and used some beautiful beads I had in my stash.
The result was this necklace and earrings made from a nice grade of green garnet.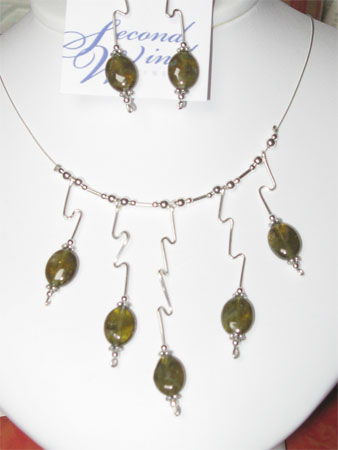 I used 21 gauge sterling silver wire to make the squiggles that served as both head pin and necklace interest, hammering it after I bent it to work harden it (make sure it retained its shape). The five dangles of varying lengths are surrounded by sterling liquid silver and 2mm beads. All are suspended from very fine silver-plated 49-strand beading wire. Although you can't see it in the photo, I made a sterling hook and eye clasp for closure.
I haven't used green garnet much, but find it really beautiful. Like all gemstones, green garnet has healing properties; they are different than red garnet properties. Green garnet promotes healing, encourages cooperation, and can be helpful in meditation. It can be a help in the creative process (maybe that's why this necklace worked so well), as well as enhancing a sense of peace and serenity.
I won't likely be putting this or other new jewelry on my website, instead only having them available at shows or by contacting me directly.