I liked the green garnet necklace so well that I just had to use the design for more than one necklace. I had some lovely citrine beads in that same pleasing flat oval shape, so modified the necklace slightly by using 14 karat gold-filled wire instead of the sterling silver.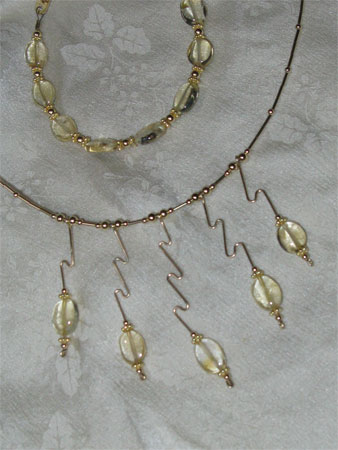 Since I didn't have any gold-plated beading wire, I used liquid gold and little 2mm gold-filled beads for the length of the necklace. It's a tiny bit heavier than the green garnet necklace, and a little bit less delicate. For me, that's a good thing — I'm not the most careful person when it comes to wearing necklaces. I tend to either play with it while I'm wearing it, or forget I have it on and end up doing damage when I pull my shirt over my head – with the necklace clasped on top of the shirt!
Citrine enhances self-esteem and clarity in communications. It encourages generosity, prosperity, happiness, and success.
You can download the October 23rd, 2010 | Tags: healing gemstones | Category: Jewelry & Gemstones