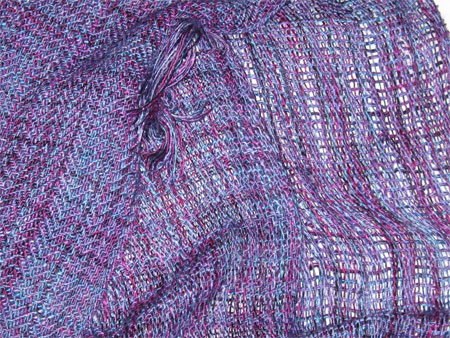 I just took these three scarves off my lovely, little counterbalance loom. The fiber is a wool-silk blend that was hand painted by the talented Tammy of Yarntopia Treasures. This is a colorway she calls Snow White. I really like the fact that this fiber has a handspun look and feel to it – thick and thin parts of the yarn.
From the beginning I wanted these scarves to be woven loosely to ensure plenty of drape. So even though it's a medium weight (1,440 ypp) yarn, I sett it at 12 ends/inch to accommodate that. I used a point twill threading pattern, and the first scarf I made (on the left) was woven at about 12 picks per inch (PPI). It's nice, but not as loose as I wanted it.
Next I used a simple basket weave (on the right), setting it at about 9 PPI. Particularly with the blends of the colors, I liked this simple weave. But I wanted something in between in terms of weave.
So for the third scarf (in the middle) I alternated tabby and twill treadling, working at about 10 PPI.
Although all are lovely, I like the two looser ones better.
When I was working with this wool-silk blend on the loom, I found it to be rather scratchy. Being quite sensitive to wool, I was certain that I'd never be able to wear one of these finished scarves around my neck. They seems hard and stiff. But oh, after the wet finishing, they are SOOOOO soft and drapey! I can wrap them around my neck for hours with no itchiness!
I will be putting them up on my website, but they're not there yet.
Your turn – what fiber has surprised you?