I recently finished a beautiful handwoven shawl. Made from rayon chenille hand painted by Tammy, I'm really happy with the overall appearance of this shawl. The rich, saturated gemtones are pretty much my favorite colors.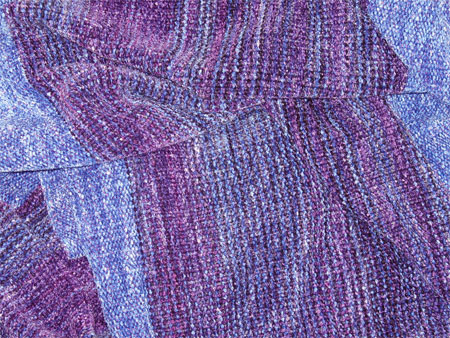 This will go up on my website soon, but I'm betting I'll get a much bigger reaction at shows. Although I've tried many different techniques, I've never managed to get what I consider to be a great picture of rayon chenille. The fiber's natural sheen causes light to bounce around a great deal, despite the various ways I've tried to minimize it. Also, with this rayon chenille shawl, the color was a real challenge. Either it was all REALLY blue, showing next to no purple, or it was washed out looking more gray than anything. I probably took 20 shots of this handwoven shawl before I got one that I thought was worth using.
Now for something else in shades of blue & purple…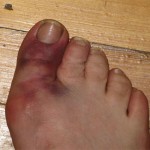 Isn't that attractive? (Please ignore the fact that I have rather ugly feet, with a big bunion and toes that, at best, resemble cocktail wieners.) I dropped a piece of firewood on my toe yesterday. Not far, but it went down on end, and the edge of the firewood hit the toe really directly. Now here's the really amazing thing: doesn't that look like it should hurt like hell, all swollen and black & blue like that? Well, it hardly hurts at all. 🙂 Â Immediately after hitting it I elevated, iced, and rubbed in arnica oil whenever I could for the rest of the day. And today it's really not feeling bad at all. I even got in 1/2 mile of walking my dog. Mind you, I'd usually have walked about 3 miles, but the single digit temps combined with the toe turned us around really quickly.
Your turn: got any good tricks, either for photographing rayon chenille or for keeping your toes safe?