A few months ago some young friends had their first baby. A sweet little girl named Grace. In preparation for this very welcome addition to their family, my son ordered a custom baby blanket as a gift.
The mother-to-be's requested colors were pink, brown, and green. To be honest, it was a bit of a challenge to me to come up with values of these colors that looked good together, and appropriate for a baby. Fortunately, my friend Tammy at Yarntopia Treasures came through in a handpainted blend using pink and brown in a soft and comfy cotton flannel. I added some stripes of plush green cotton chenille as I wove. Like my other baby blankets, I made this one in doubleweave on my counterbalance loom.
Dad just emailed me photos of Grace going for a ride, wrapped in her blanket for a bit of warmth. I am amazed as how well the colors in the blanket match the other colors she's wearing — it's as if I'd seen her little hat in advance!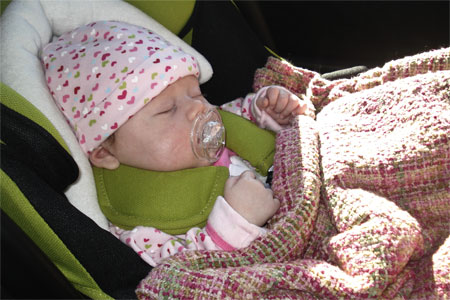 I love making handwoven baby blankets, and am happy to take orders for custom weaving for a blanket for your special baby. Just give me a few months advance notice and you can wrap your child, grandchild, niece, nephew, or other favorite little one in handwoven warmth.