Congratulations to Joanne, who won the November contest. I plan to deliver her talisman at my show this weekend.
Now to the December contest. This month's contest will be shorter than usual so that you have a chance to receive your prize by Christmas. The prize?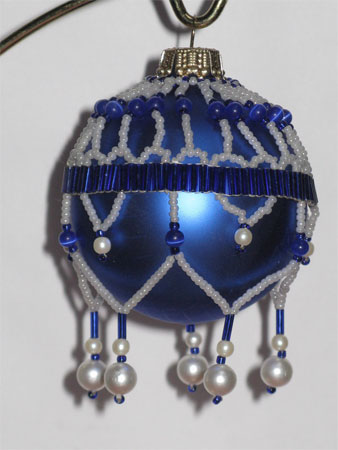 This little hand made Christmas ornament with its beaded cover. This is my smallest Victorian-style ornament, only about 2″ in diameter. The blue matte glass ball is adorned with glass beads. Should the glass ball break (as it did when I dropped it during the photo shoot), no problem, just slip of the cover and drape it over another ball. You can also choose to change it to another color (silver, white, red — you choose) to coordinate with your tree theme or just for a different look.
So what do you have to do to win this hand beaded ornament? Simply leave me a comment, on this or another post, telling me one great Christmas/Hannukah/Kwanzaa/Eid/Solstice story from you life. Your answers are due by December 15 – only 12 days, folks, so let's hear from you!