If your life is like mine, Autumn brings beauty – gorgeous fall colors, crisp temperatures, beautiful sunrises and sunsets. It also brings some not-so-pleasant things. In this case, I'm referring to some serious family challenges. Thankfully, I have support from many quarters, which makes the problems easier to bear. We face the struggles together, carry the burden collectively. And for that I am very grateful. I also really appreciate the relief and support I get from my (Zoom) meditation group and my urban soul line dance class. So much so that I'm going to start going to line dance 2x/week instead of the 1x I had been doing. It does both my mind and my body good.
On the weaving front, I finished the 'September' hugs…in early October. (A handwoven hug is a shawl – I call them hugs to indicate that my intention is wrapping the wearer in a hug.) I'm pretty clear that I'm not going to get any October hugs woven. And I'm okay with that, since I've just cleared my existing list of people who want them. So I just put the offer back out to my BuyNothing group, and have 1 request so far. I'm sure I'll get more.
Here are the 3 September/October hugs, in the order woven.
The first one happens to be my favorite. It's a solid pink cotton weft, woven in plain weave, so it really shows the hand painted warp (not my work) to its best advantage.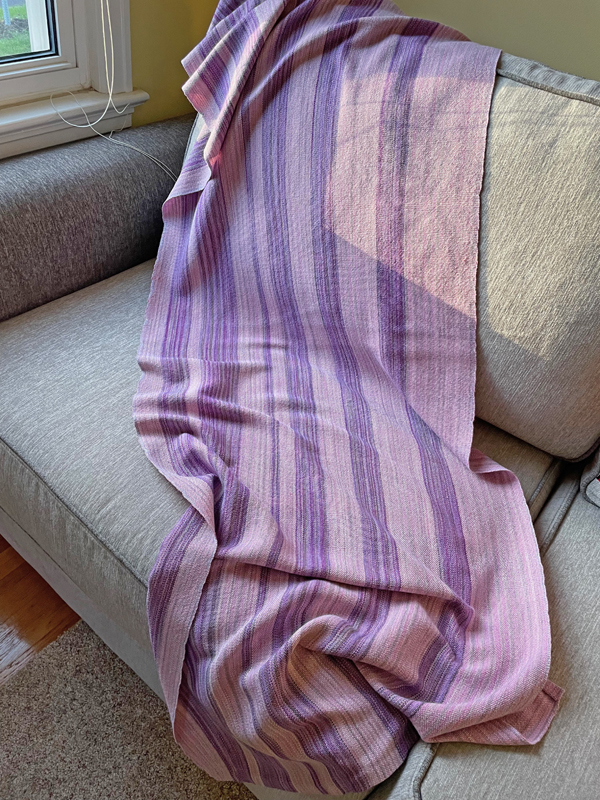 The second one I wove used a rich purple bamboo weft, and I treadled it in a zigzag pattern. No, actually, I'd threaded the warp in a point twill, so just treadled it 1-8. It feels great, and I love purple, but somehow this one didn't speak to me the way I thought it would.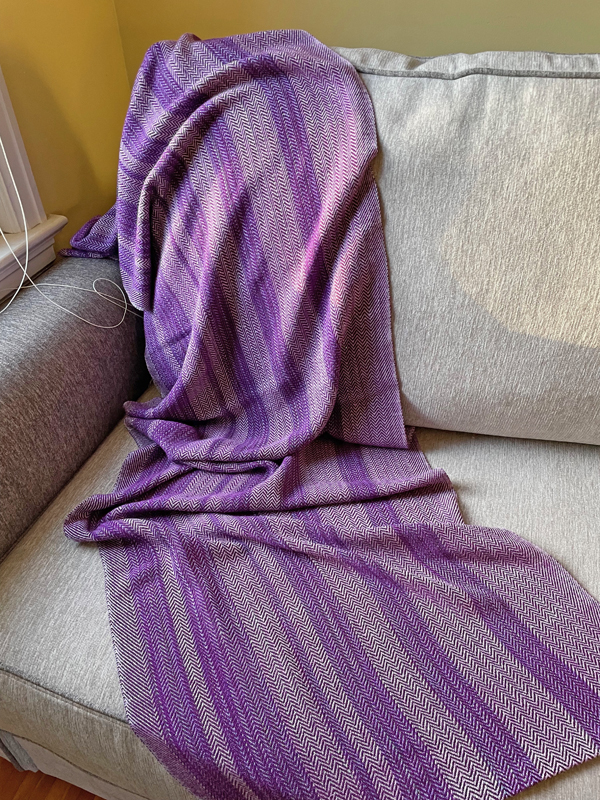 For the third hug, I used various colors of weft, randomly changing colors. This type of weaving is so outside my usual comfort zone – I'm much more of a symmetrical/planning-type weaver, but I liked the finished product. And this was the first one chosen. You just never know.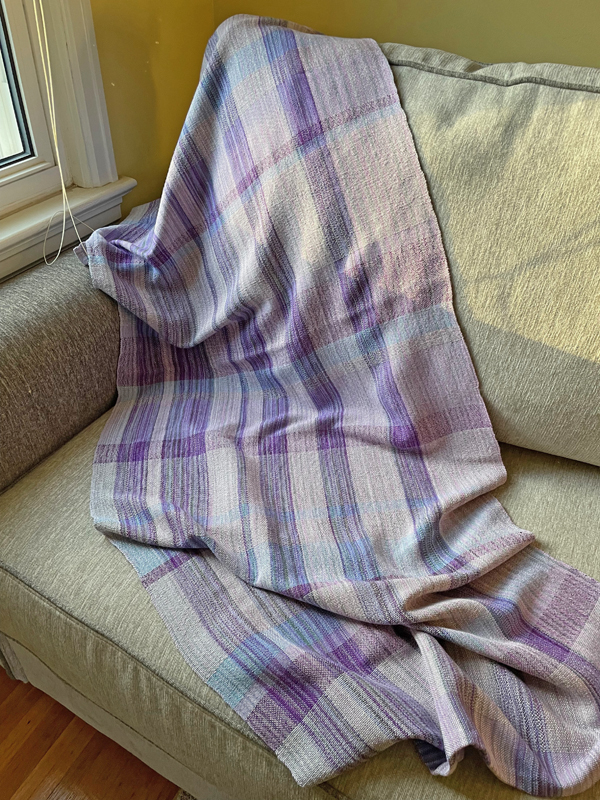 After I got those hugs off I quickly warped my loom for a run of towels. Again, outside my comfort zone. 🙂 Some time ago (a year??) I'd acquired a cotton warp from another Guild member. It was already measured out and chained, and was in baby pastel colors. How long was it? How many threads was it? I didn't know, so had to start by doing a lot of counting of threads (couldn't get the same number twice, LOL) – it seemed there were about 320 threads – nowhere near enough for a towel width, so I'd have to supplement it with threads from my stash. But how long was the warp? So I set up my warping mill and attempted to stretch it on there, knowing that I couldn't get a 320-end warp to stretch as much as a more narrow warp. So I picked some coordinating colors and wound them, 5 ends at a time, longer than I figured I'd need. 10 ends of my warp, 20 ends of the purchased warp, all the way across the width of the piece. Here's the warp going on the loom.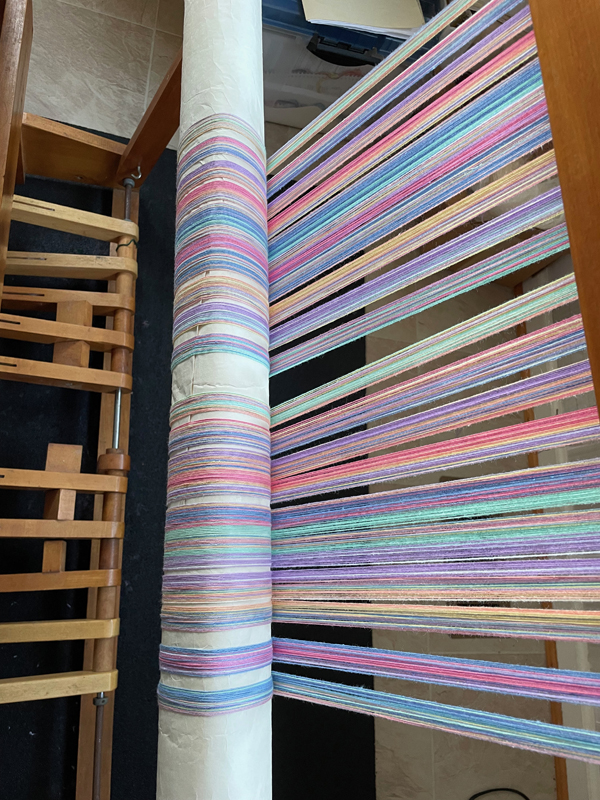 The towels are off the loom now and I'm hemming, so will take pix after that.
Now it was time to decide what I would bring to my guild's Holiday Sale. You've seen photos of some of my handmade paper before. I made some more, in sets of 4, and used them to make inserts in cards. Almost all of the paper was created using old brochures from our Weaving Center, a twist I particularly liked. I don't have pix of the completed cards or sets…maybe another time but I want to get this post up.
I also used an idea from another weaver I saw on Facebook, and created little pins from foam core board wrapped with leftovers of my handpainted yarn.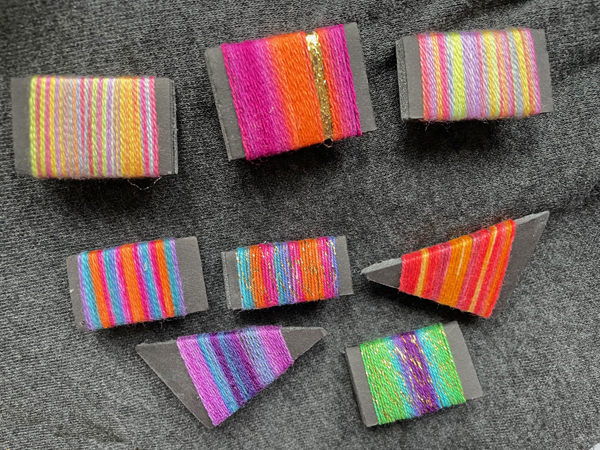 I got my dates mixed up and thought all the paperwork had to be in by the 15th, so I was flying that last week. I realized at the last minute that the deadline was the 27th, but I'd made my pieces and my decisions, so submitted on the 15th anyway. Now I don't have to keep obsessing on that. I will just have some tagging and pressing to do in the next few weeks. Easy peasy.
Oh, yeah. Then I sewed my 10 bead bags for August.