I finally have all the 'making' done, gifts wrapped, packages mailed (albeit too late to arrive by Christmas), and most of the baking done. The rest of the baking will probably not happen. No big deal.
I'm able to show you the following photos of things made and gifted since the recipients – who won't have received them yet – don't follow my blog.
First up, I did gift one of these towels that came off the loom.

Plus two others from the last batch of towels.
Then I made some new stuff. A friend showed me little squares she'd woven on a pin loom, using some of her really lovely handspun yarn. Well. That got me thinking. And then I happened upon a vintage pin loom at the local craft 'recycling' store. If I were to guess, I'd tell you that the base is made from bakelite. Maybe not, of course.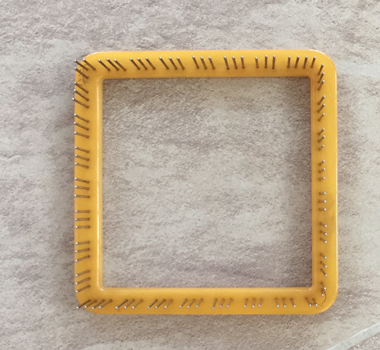 Anyway, although I rarely weave with wool, I had a few partial skeins in my stash from some previous knitting projects. So I wove up some 'weavies' – that's apparently what they're called. And got hooked. Spent some time online looking at what people did with them, and decided I would create my own idea.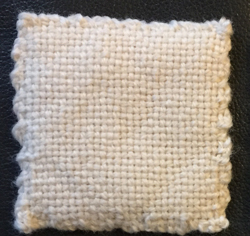 I really liked making various 'patterns' in the weavies, all from instructions…either the little booklet that came with my pin loom or from Pin Loom Weaving by Margaret Stump that I borrowed from the library. So I made 8 weavies for each gift – 4 plain weave and 4 patterned.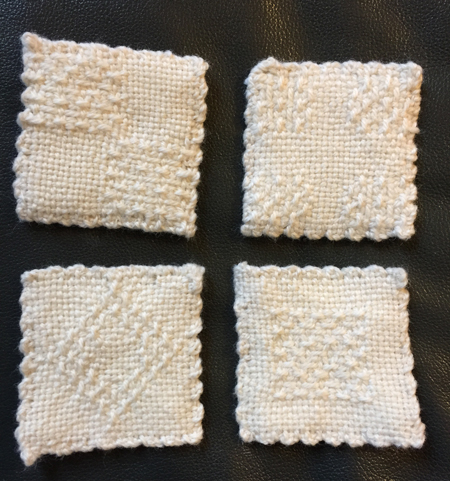 Then I got some of those washable incontinence pads and cut them into squares, zigzagging the cut edges. I put the cut squares in between the weavies and sewed them together into coasters. Between the wool and the inserts, tables will stay safe and dry for sure.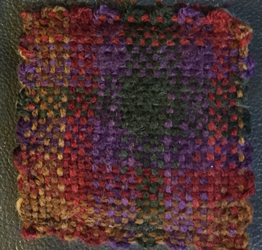 After completing that first set, I realized that I couldn't predict which side the user would consider 'top' however, and the waterproof cover on the pads wouldn't serve well if it faced the mug/glass placed on it. So I cut the plastic out for the rest of the sets, making them completely reversible.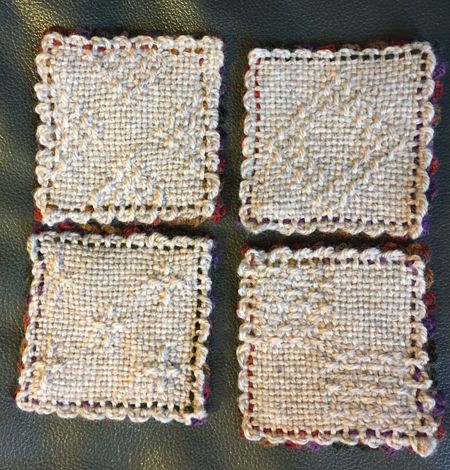 Also, apparently the wools shrank a bit differently upon wet finishing, so after playing around I decided they'd look better if I didn't try to pull all those edges together, but instead used a simple straight stitch inside the edges.
For this set I used sock yarn for the plain weave instead of worsted weight. It is definitely thin and should be used double for most things, but I thought single was okay for this purpose.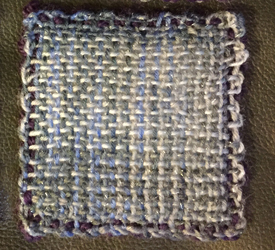 I wasn't as happy with these dark purple coasters as the patterns don't show up so well.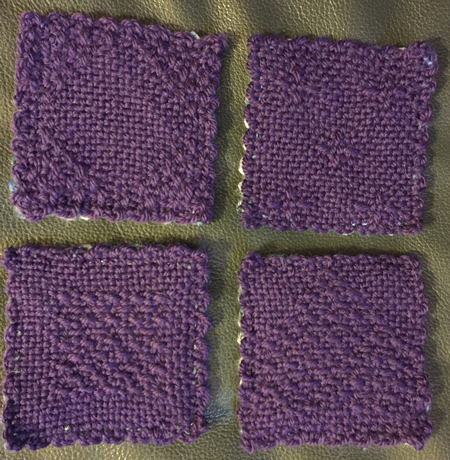 All I have to do today is cook some shrimp for shrimp cocktail tomorrow, make chocolate mousse for desert tomorrow, and make some of my 'famous' homemade eggnog, heavily spiked, for a party tonight. Easy peasy.