Yep. I'm nuts. A few days ago I decided that I simply had too few towels & I just had to weave a few more before this weekend's RALA show. I set the loom up for some color-and-weave towels with a natural and a cranberry cotton, hoping that the cranberry was bright enough for the holidays without shouting RED at you. I had (and still have) lots of 10/2 cotton, which makes a thinner towel than I like, so I used it doubled in both warp and weft.
Not only did I decide to make more towels, but color-and-weave towels?? This requires 2 shuttles, which in my world takes more than twice as long as weaving with just 1 shuttle. But it was what I wanted to make. At least I was smart enough to only put on a warp long enough for 5 towels.
These are the first 2 I wove. I kept losing my place in the treadling and likely made some mistakes. I decided I simply couldn't take the time to go as slowly as this pattern required, plus it didn't send me.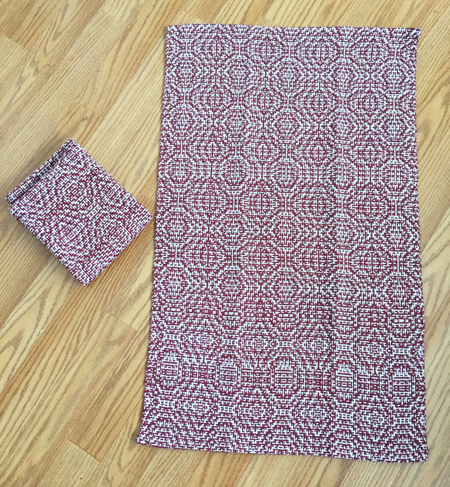 So I changed the treadling for the third towel. Straight 1-4 treadling. Should have been easy, but you can see I have a few float errors (where the cranberry is darker). I didn't see them till the final pressing, and decided that I'll sell them as is since it won't affect their functionality.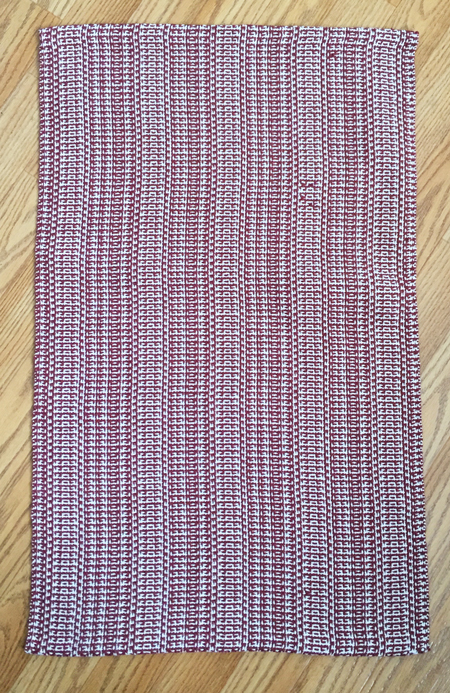 Again, the pattern didn't send me so I changed the treadling again, and again made 2 of these.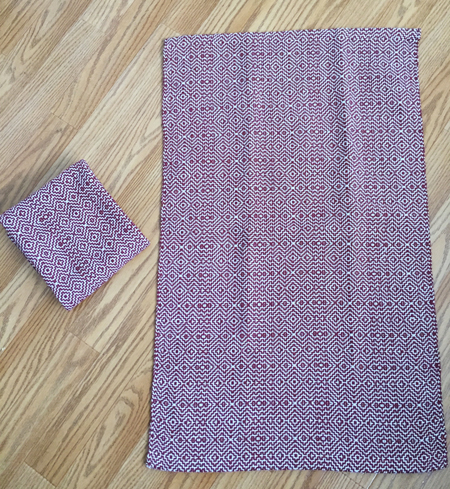 Yesterday I finished weaving, washed, dried, pressed, and hemmed them. Today they joined the stack of all my other recent weavings that had to be measured and labelled.
Several hours later and that unloved task is complete. Now I have to pack all the weaving up, check my list for what all I have to bring, and make sure I'm really organized in the morning. I have, unfortunately, forgotten critical pieces of my display in years past, and had to either be bailed out by fellow artisans or make major modifications to my operation. I've done some of both. 🙁
I also finished a chenille 'extra' length into a short cowl with a bit of knitting to make it long enough to go over your head.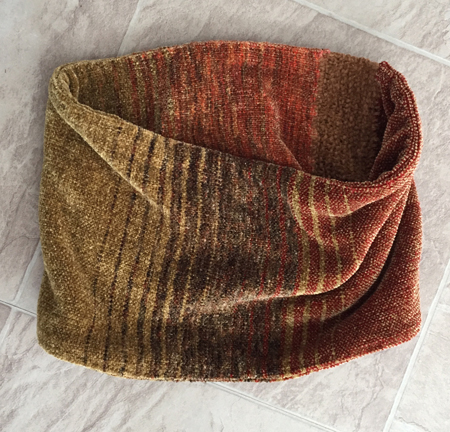 I have 2 more pieces that I can finish if there's time. Plus other ideas. I always have other ideas. But I never have a clone, so plenty of things fall away.
Do come and visit me if you're near East Aurora this weekend.