I'm working with a friend from my book club to hold a little pop up shop between now and Christmas. We're not sure how this will work, how many customers we'll get, but I know I won't sell a thing while it's sitting in bins in my closet, so I'm committed to trying it. If you're on one of my email lists, look for an email with details later today or tomorrow.
I think it's really important for this type of thing to have a broad range of price points, so decided to (a) weave a bunch more towels (more on that in another post), and (b) do some dyeing.
First I dyed 6 pair of bamboo socks. I used some empty plastic yarn cones that had provided the best results last year, scrunching and tying the socks shibori style. I'm very happy with all the results, and am hopeful that they'll sell.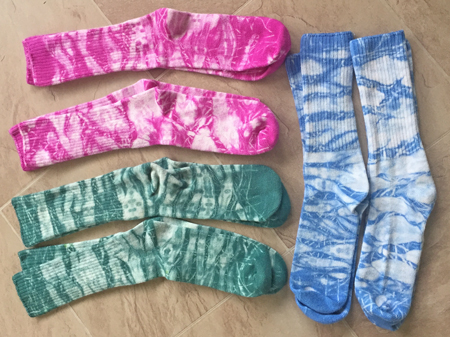 Then I ice-dyed 6 onesies. Well. This wasn't as successful. For the first round I was quite disappointed in how poorly the dye took on the onesies. After some time pondering this I realized I had neglected an important step – soaking the onesies in a soda ash bath. So I did that, bought more ice, and tried again. One I really liked, 3 were just ok, and 2 were unacceptable. So I soaked those 2 in another soda ash bath and tried a third time. Still just ok. Don't know if these will sell or not.
I wanted to use colors that were not obviously 'boy baby' or 'girl baby.' So greens, yellows, and reds were high on my list. The greens were the hardest to get what I wanted. In fact I still didn't get anything close to what I wanted. Sigh.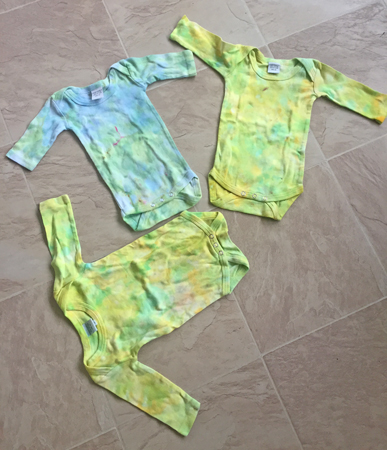 This next photo are the ones I like better, with just 1 that sings to me – that red/dark orange onesie on the left side of the photo. I am more hopeful these will sell.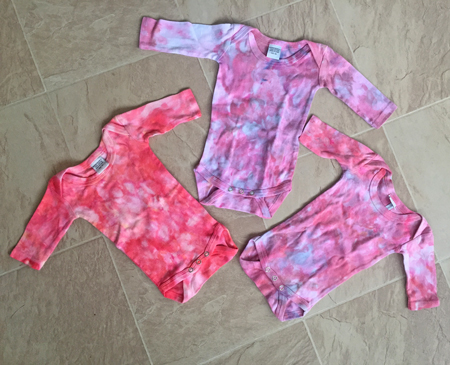 I have 6 more onesies. I think I'll try wrapping and shibori dyeing 1 or 2 and see how that works.
On the weaving front, I realize I've already taken one of the newer shrugs to the pop up shop, and hadn't photographed it. Maybe I'll snap it while I'm there this weekend.
This morning I took some shots of the other piece, although it would have been better if Dolly was still here; she's also at the pop up shop. This one isn't a shrug, isn't a shawl, it's a…well, I don't know what to call it. Your input will be appreciated.
So here it is from the front.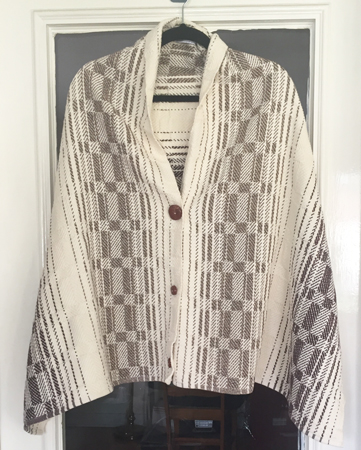 I used 3 buttons that I'd made last year from polymer clay. This wrap is mostly cotton with a bit of linen in the colored stripes. It is pretty heavy and warm, and therefore not as drape-able as most of my work. This looks pretty old-fashioned to me, but it is comfortable. Except that it doesn't cover much of the back.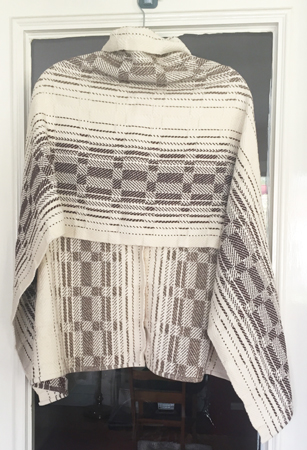 My daughter, who has always been infinitely more fashionable than I, particularly liked it when it was put on sideways, with the buttons roughly on one shoulder. She thought this look was fashion-forward. This is the one I could have shown it much better on Dolly.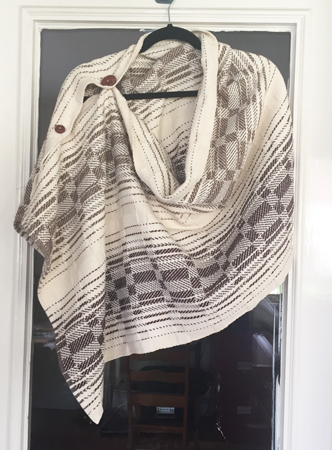 Wearing it this way covers similar amounts of the front and back of the body.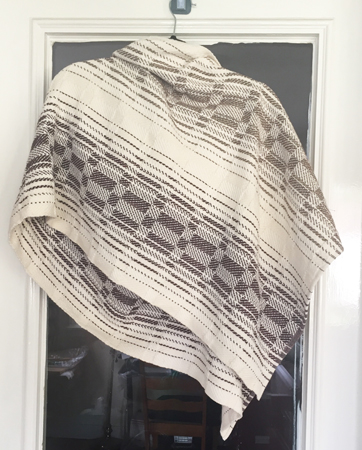 I have to get back to work now. Busy, busy.