One of Mary's sayings is "Well begun is half done." With that in mind I began my year of 6-7 good finished pieces every month.
A common strategy for me is to do what I don't want to do first, using what I do want to do as a reward, if you will.
So I started by sewing 51 bags.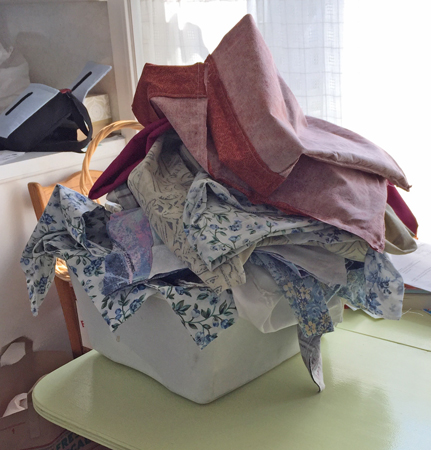 Here they are sewn, in a pile, inside out. I have subsequently turned them right side out, ordered the needed ribbon and printed the needed tags, and threaded the ribbon and tagged them all.
Then I beamed a shawl warp. I've learned that for me, with rayon chenille I'm better off warping for just 2 shawls. Much less frustration in the beaming process, and much more consistent tension across the warp throughout the weaving. So here's my first warp, very pale green to rich blue.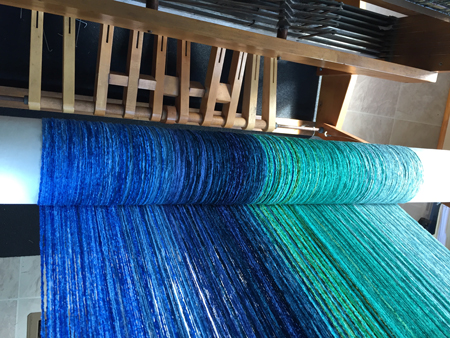 I've since woven both shawls, but one is still awaiting hemming. I finished the other so I could bring it to a gallery that has some of my pieces. This shawl has a commercial variegated weft, which wasn't my favorite so I made it into what is for me, a new design to add interest. Here's the front.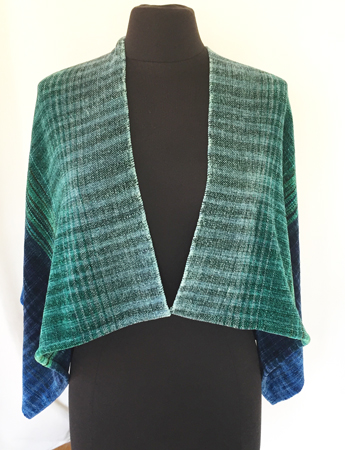 And the back.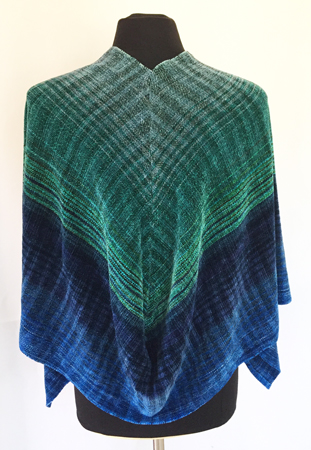 It's not perfect, and I'll make improvements in the next round…the front should be a little longer and the back a little shorter. The center back seam should be more tapered to improve the drape at the bottom. And I may add a few beads or something to enhance the front. But I'm happy with it, and the young women at the gallery really liked it, so I'm onto something.
This design made me much happier than the moebius shawl I tried. That shawl did sell at the August show, but unfortunately I was getting lunch at the time, so didn't get to see the woman who tried it on and loved it. I couldn't manage to make it look right on me. Glad she did.
Anyway, I have already beamed and threaded the next rayon chenille shawl. Really saturated gem colors. I am loving it.