This morning my son and I went to a U-Pick place. We got several pounds of sweet cherries and LOTS of blueberries.
I came home and made jam.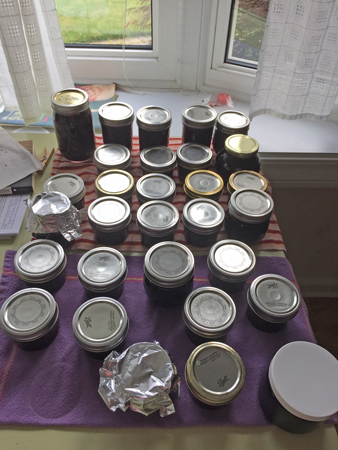 First up, closest to the window, is cherry-orange-spice jam, cooked with 2 cinnamon sticks, some whole allspice and whole cloves in a tea ball. I'm guessing that it won't set well, but will hopefully taste good. I got 1 pint, 5 half-pints, and 4 half-cup jars. (1 already sent home with son.)
Then I made a batch of blueberry-ginger. I followed a recipe for the amount of freshly-grated ginger (1.5 teaspoons), and I'm pretty sure you can't taste it at all. I got 3 half-pints and 8 half-cup jars of that.
Next another batch of blueberry, this time with double the ginger (1 tablespoon) plus 3 tablespoons of fresh lemon thyme. That got me 2 pints (1 already sent home with son) and 9 half-cup jars.
Plus, I sent home probably 6 cups of blueberries with my son, and I have another 2 cups here to just eat.
I'm confident that the blueberry will all set, but even in that second batch, all I taste is blueberries, but maybe more discerning palettes can taste more.
Still, they'll be good, and some will make nice gifts.
Left the house at 10AM to go pick, and by 4:30PM all the jam was made and the kitchen was cleaned up, except for cooling, labeling, and putting away the fruits of my labor (yuck, yuck).