He needs your help. I don't know how to help him.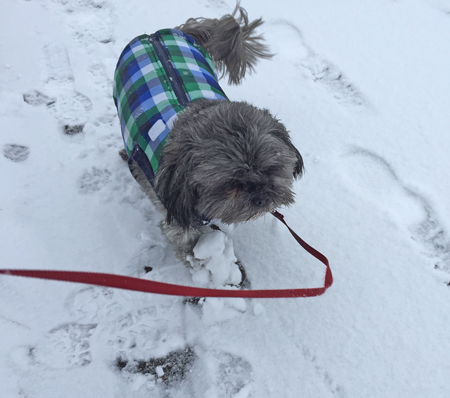 He's the third dog that I've owned that with this issue and I haven't known how to help any of them. I've tried a few strategies, none successful, so I'm turning to you. Have you had an animal with similar problems? If so, have you figured out how to either prevent or solve it?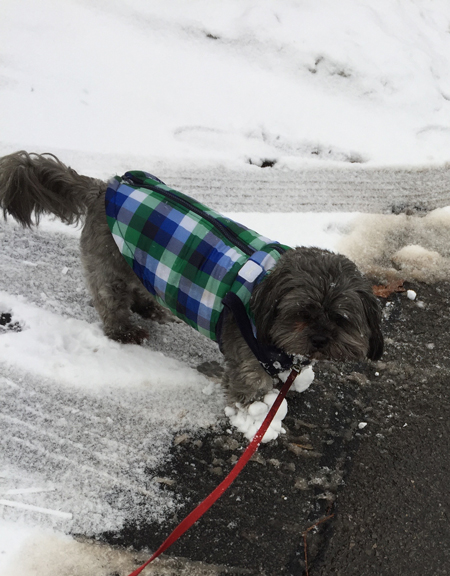 Have you seen the problem in the first two photos? If not, the third is totally clear. When the snow is wet and heavy, the kind of snow that would make good snowballs or snowmen, Jack's feet make snowballs as he walks, eventually growing big enough to pull on his hair.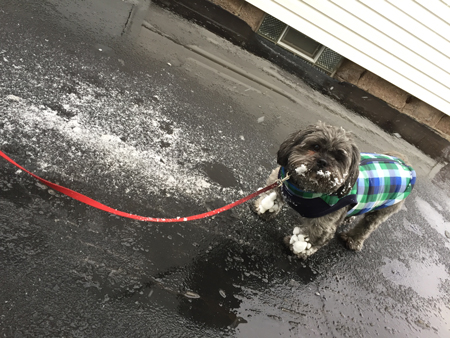 These snowballs gather and get bigger as he walks. I find it curious that the snowballs aren't gathering on his back feet; on my previous dogs the problem was with all 4 feet.
I've tried boots, which he definitely dislikes. Plus since his legs are so thick, it's almost impossible to get them tight enough that he doesn't lose them. On previous dogs I've tried lifting them into the sink or tub and using warm water to quickly melt off the snow. None of us liked that. I've tried keeping the hair on the legs really short. Not a good plan in the winter either, especially with someone like Jack who gets cold rather easily.
So readers, what are your suggestions to help this little guy?