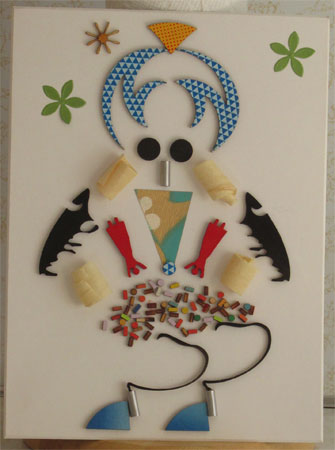 I rarely get on-the-spot-inspired to make a piece of 2-dimensional art. Saturday was different. I walked into the Rochester Central Library to their monthly Artist At Work series. March's artists were husband and wife Don & Cheryl Olney. I've talked with Cheryl at any number of art shows. Her bright, cheerful work in wood and human forms is so engaging that you can't just walk by – you have to at least stop and smile, if not chat with Cheryl.
Hubby Don is also a woodworker, and together they brought small mat boards and tons of assorted materials and encouraged everyone to create. This was only the 3rd Artist At Work program I've been to, but it was far and away the most engaging. Every single person there made something. I think mine is a bird. But you may see something different in it.
I've been busy working on my COE materials, too. I did a new color wheel because I wasn't happy with the first one. I wrote the first draft of 4-1/2 pages of definitions. I planned, threaded, and wove my first sample for them, and I'm not yet positive it's good enough. I'll know after the wet finishing. All of this took far more time than I thought it would.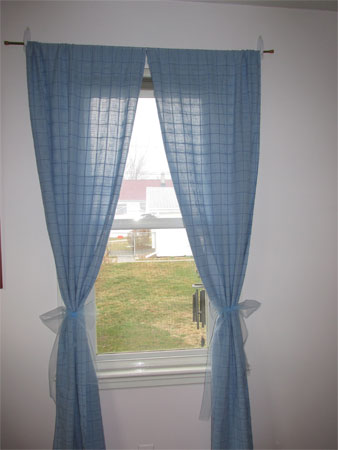 Meanwhile, I finished weaving my bedroom curtains. Are they perfect? No. Would I do it differently next time? Yes. Am I satisfied with them? Yes. I might have woven ties for them, but I didn't think of it. So I made nice, big bows out of tulle. I like them okay. The colors in the above photo are pretty much right on, unlike most of my other photos of the curtains.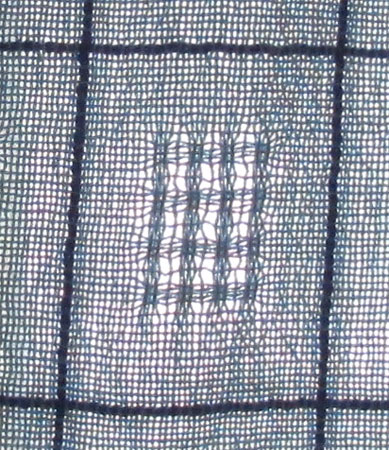 Isn't that closeup cool? You can see all the thread interlacements. You can also see that this particular 'square' isn't square at all.
Finally, I finished the planning with 3 moms for 4 more custom baby wraps. the first warp to go on the loom is for EB. She's getting both wraps from this warp. Tomorrow I'll be winding her warp, and plan to get all 4 bouts measured. Here are her yarns. The warp is brique, saumon, melon, and honey (shown in the middle of the photo). Weft yarns are peche (top) and peaches 'n cream 10/2 mercerized cotton (bottom). I think they're yummy! It will be interesting for both mom and me to see the difference in look and feel between 8/2 unmercerized and 10/2 mercerized cotton wefts.