So much has happened in my life in the past 21 days, sometimes I have to remind myself to slow down and take some deep breaths. Stopping to look at a cool moth settled on my screen door is one of the things that helps me do that. Here are the highlights (and lowlights) of my last few weeks.
After being on the market for 11 months, I got a purchase offer on my house, followed by a minor negotiation and a contract. I had 6 weeks to move!
I talked to a great realtor my daughter's used up in Rochester, made an appointment with her to visit several houses on a single day, and saw an adorable one. I made a purchase offer, which was followed by another minor negotiation and a contract. I would be able to move into my new house within 6 weeks!
I did a show in East Aurora over the weekend. A weekend in which Buffalo, about 15 miles north, set 2 records: most rain in a single day on Saturday, and coldest high temp for that date on Sunday. As you might imagine, it wasn't a great show for sales. Plus I had to pack up in the rain, so on Monday I had to basically set up and dry out the top, 4 sides, and 3 awnings of my tent. Then I had to dry every piece of weaving that had come out of one of my plastic bins; although not wet, it was all damp from so much wetness around me for 2 days.
Then, to make Monday even more fun, my wonderful son, great neighbor and I spent more than 3 hours digging about 3 feet down through clay and rock, making a hole that's probably at least 3 feet square. Why so much fun? We had to uncover most of the top of my septic tank so that it can be inspected next week. We were totally whipped on Monday and couldn't finish the job, but my son and I finished in about 45 minutes on Tuesday morning.
Today after getting a haircut and going grocery shopping I stopped at my lawyer's to drop off some documents. Then I stopped at my auto mechanic's to have him diagnose and make an appointment to repair my exhaust leak. I came home and scanned in some other documents my lawyer needed and emailed them over.
The inspection of my current home went great, and on Monday I'll be driving to Rochester for the inspection of my new home. Back that afternoon to be ready for the septic inspection Tuesday morning and car repair Tuesday afternoon. I'll be picking up some boxes while I'm in the city so I can start packing. Whew!
So once again I needed to do something that would occupy my mind and keep it off the gazillion things I was obsessing about. So I started winding the warp for my next baby wrap. ZN & N have had to wait through the 3-week break while I prepared for my summer shows. Two of which I've now cancelled because of the move. A woman can do just so much!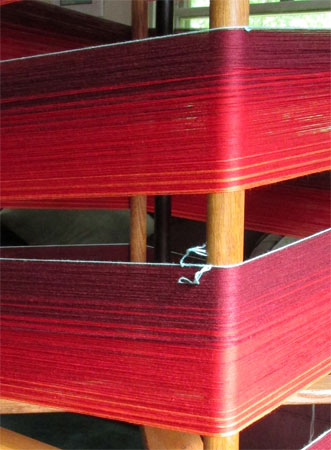 This bout goes from wine to cerise to a bit of orange fonce. The second bout, also wound tonight, has the rest of the orange fonce and the gradient to turquoise. Tomorrow I'll wind the last 2 bouts and beam the warp.