Yesterday the beautiful spring weather called me off the road and into the woods for my daily walk. I really wanted to see what was blooming there.
Spring beauties are up — ahhhh. They are so aptly named.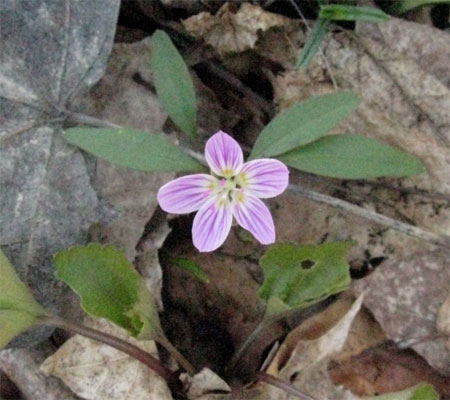 In my woods they come in the stunning variety and a slightly less gorgeous, paler, almost white bloom.
I kept climbing the hill in the woods, turned around, and saw this lovely wooded view.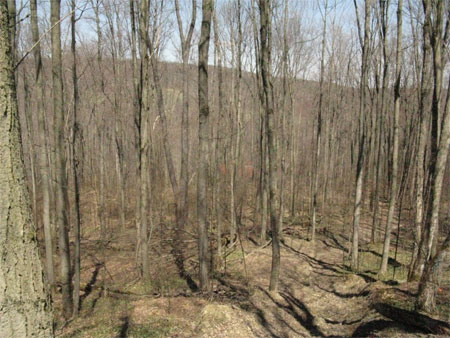 Can you see the roof of my house in that photo? How about that terrific field on the next hill that I like to climb up to and enjoy the view?
No? Don't see either? Here they are.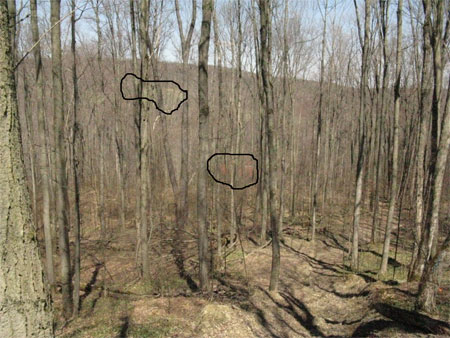 I kept walking and found several patches of leeks. They're a real spring delicacy out here in the sticks. I think they're a distant relative of the leeks sold in the grocery store, with stems as thick as 3 fingers. These wild leeks, called ramps in the southern states, have a stem that's about the width of a pencil lead. Their flavor is decidedly not delicate, particularly when eaten raw – which I never do. Lightly sauteed they provide a nice green with an onion-garlic flavor.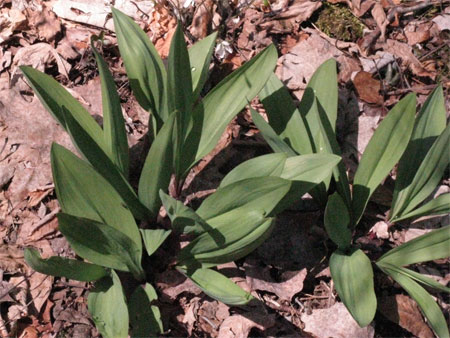 On my way back down the hill I came upon this down log that has provided some early food for a flicker or pileated woodpecker. That hole is probably 1.5″ deep and 3.5″ across.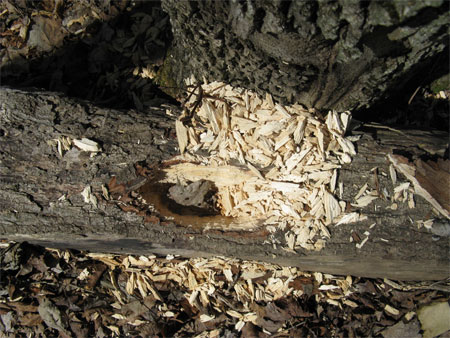 Approaching my yard, I saw that the partridge berry fruits were out. Although the US Forest Service says they're tasteless, I definitely disagree – these little red gems taste like teaberry gum.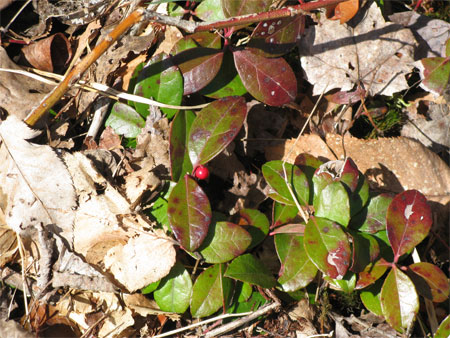 Back in the yard, I had a little chuckle. These grape hyacinth used to be in the flower bed. Clearly when I had the well dug last year the machine moved them & I didn't notice the small bulbs when I replanted things.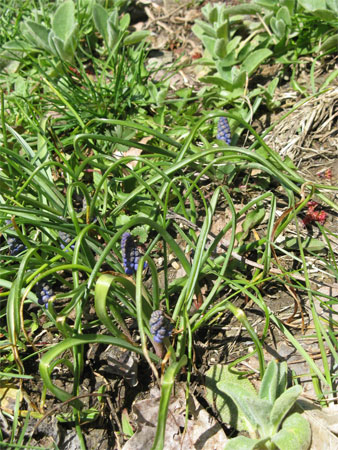 Trust me when I tell you they're flowering more here in the lawn than they ever did in the bed. They'll be done flowering by the time I need to mow, so I'm not going to move them back. They can live right here.