My niece is having a baby. Her first. It's a girl. Sure I could have gone to Babies R Us and bought something off her registry, but I didn't want to do that.
I'm a weaver. I wanted to weave her something. No not something, I wanted to weave her a baby blanket.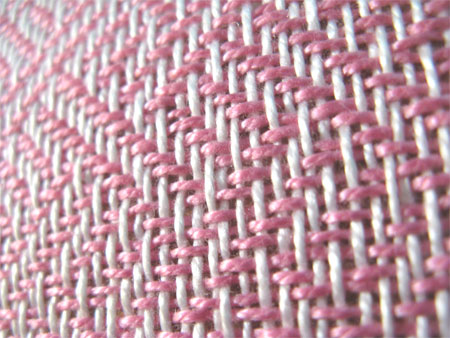 I do have a small supply of baby blankets in my inventory, but none of them were what I wanted to send her. I wanted to make a new one.
And I wanted to make a cotton one. Now, I've made other handwoven baby blankets from cotton, and I've not been overly happy with the results. I like the way they look, but I haven't liked their softness and drape. Actually, their lack of both.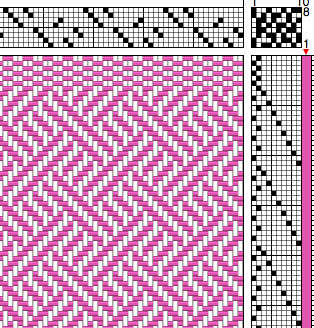 It was time to try again. I figured what the heck? Since it wasn't expected, if I wove it and hated it, I could throw it away — the materials wouldn't be too costly — and go to Babies R Us as a default. Safe enough.
So I warped the Macomber loom for an 8 harness braided twill in 5/2 cotton. White warp, pink weft, what could be simpler?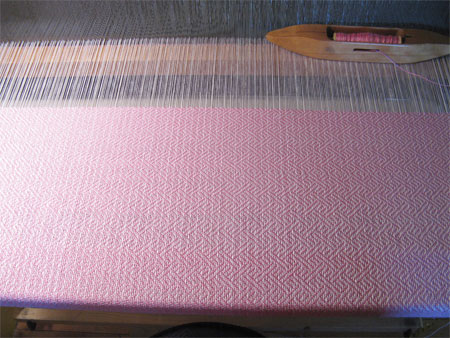 I liked the way it looked on the loom. But then again, I almost always do, so that wasn't really meaningful.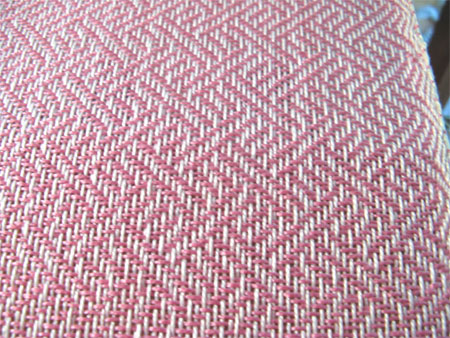 While I was weaving, I decided on a different course of action than my usual. Usually I weave, sew on the binding, and wet finish with a hand wash. This time I'd try another way. After all, that old saying that is if you do what you've always done you'll get what you've always gotten. Plus, I still had that throw-it-away-Babies-R-Us default option.
So I took it off the loom, went upstairs to the sewing machine, sewed not one, not two, but three rows of machine stitching on each end, went down to the basement and tossed it in the washing machine. Then without looking at it I tossed it in the dryer.
My thinking is that the cotton would shrink however much it was going to, and if the blanket was still alive when I took it out of the dryer, that was the time to sew on the polyester satin binding.
Well, I took it out of the dryer and LOVED it! It was soft and sweet, not a bit of stiffness left in it!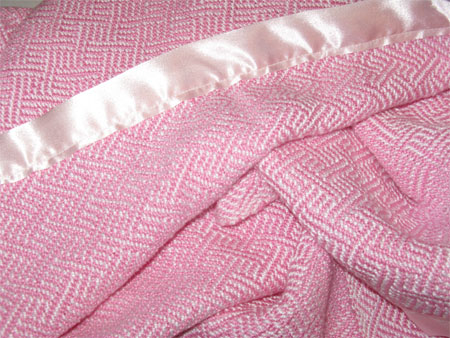 Went back upstairs to the sewing machine, sewed on the binding, shot a few pix, and sent it off to baby.
I will definitely do this again. And will probably use the washer to wet finish all my cottons from now on. I'll still hand wash all my rayons and bamboos, though.
I have so much to learn. That's one of the things I love about weaving. As soon as I have one thing mastered, there are a dozen others waiting for me.
Back to the loom!