Still working on Tammy's hand painted yarn, next up for my handwoven scarves was her New York colorway. Several shades of purples and pinks. This 8/2 yarn is a blend of 2/3 bamboo & 1/3 cotton. It's not quite a soft as 100% bamboo, but it has a much softer drape than all cotton.
As I often do, I started by weaving with the same variegated yarn for weft as warp. That's the top scarf in the photo, creating a faux plaid.
Then I wove the middle scarf, using a pale lavender 10/2 cotton. I like the look, and the solid cotton is finer than the bamboo-cotton blend, so the scarf is really lightweight and comfortable. It's really hard to see in the photo (not so easy in real life, either), but once again I didn't really listen to my 'simple pictures are best' advice. I tried a new weaving design, and it hardly shows up at all with a variegated yarn.
So for the third scarf, woven with a solid eggplant weft, I did a straight twill treadling instead of the pattern treadling.
Of these three scarves, my personal fav is the one in the middle. I like the lightness of weight and color.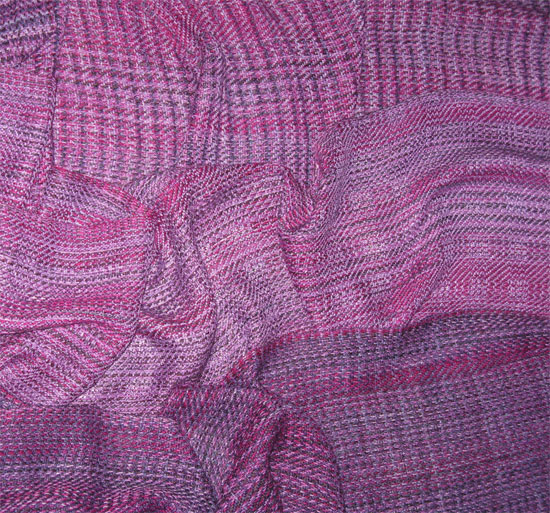 One of the other things I like about weaving with the bamboo-cotton yarn is that I don't have to twist the fringe. With the bamboo, rayon, and silk, I have to make double-twisted fringe. For a scarf, we're looking at about 15 minutes per end, 1/2 hour per scarf. So I can save that much time per scarf if I don't have to take that extra step.