I tried three wefts to make this interesting warp shine, none were great. I tried many arrangements of photos to show the scarves to their best advantage; none of them were great, either. Do the scarves somehow know that they're not one of my favorites and they're purposely being obstinant? Of course not, but I can imagine that they do.
Anyway, when I was at MAFA I bought a bunch of yarn from vendors there. Obviously I liked it all or I wouldn't have made the purchases. But somehow this one looked better on the cone than in a completed item. No clue why.
One more thing before I start sharing the pix. My sweet, amazingly supportive and generous sister bought me a mannequin for my birthday. It can stand independently (although I need to craft a base for it to do so) or hang. The purpose was to give me another alternative for taking photos for my website. I figured I'd better get some experience working with Dolly (I've decided she should have a name) before I wanted to get really great website photos. Doing so has convinced me that I need to have 2 photos of a bunch of items on the website. More distant shots showing size, drape, and a few wrapping options, with closeups continuing to show the detail of color, fiber, and weaving pattern.
Ok, enough talk, here you go. The weft is the same for all 3 scarves, an attractive blend of a few shades of blue, light green, and a bit of purple. I wove the first scarf with a navy weft in an extended diamond point twill.
I'd learned that old saw – black intensifies, white washes out, and gray muddies. So I figured (for this and some other recent pieces) I should choose the darkest weft color to bring out the warp variations. Trust me when I tell you that the pattern & color show up better in this picture than they do in real life, where they all sort of blend together in one indistinguishable, shiny swath.
Because I wasn't thrilled with the dark weft, for the second scarf I chose an icy-colored green.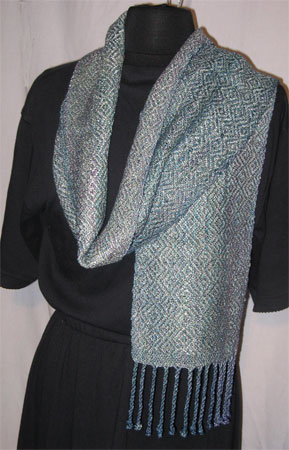 It was okay, but didn't send me. Again, a bit too shiny, and now too light.
So for the third scarf I said the heck with it, and choose a rich, royal purple, one of my favorite colors, even though it's just occassionally in the warp.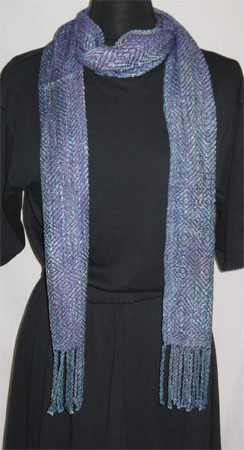 Since the scarves weren't behaving as I wanted them to anyway, I decided to change things up a bit for the final scarf. I wove each end in the same extended diamond point twill diamonds as the first two scarves. I then transitioned to a regular point twill for the majority of the length, inserting a modified diamond twill in the center of the scarf. Again, the pattern variations show up better in the photo than in real life. I find that so odd, since the colors didn't photograph well at all.
Careful observers will see that Dolly's dress isn't hanging straight in the 1st & last photo – the waist is hitched up oddly on the left side. Of course, I didn't notice it till I'd taken most of my photos of these and other scarves you'll see in the next few days and uploaded them to my computer. Since I was only doing this for practice, I decided I wasn't going to go back and re-shoot. Now I know that's something I should pay attention to before I click the shutter.
I've completed nine more scarves you'll see very soon, and am working on yet another new pattern. Stay tuned.