Early this month I got a repeat order from one of my customers. She wanted me to make her a baby blanket, in blue and white, out of bamboo cotton. Some months ago she'd purchased one in pink and cream for a baby girl. She loved the look, and the softness of the fiber, and now a baby boy was coming. I'd woven the pink and cream blanket from hand painted yarn I purchased from Tammy at Yarntopia Treasures. So I went back to Tammy and decided on one of her blends called Lullaby. Not only was it a nice, bright blue and white, the name of this colorway is just perfect.
Tammy dyed what I needed, for the baby blanket and for more bamboo cotton yarn I ordered from her at the same time, and sent them off to me. It arrived while I was up with my new grandson. So immediately upon arriving home I planned out the little blanket and got the loom warped up to make two blankets. This particular customer wanted a small blanket, carriage size, so I could easily weave a straight twill on my counterbalance loom, since doubleweave wasn't needed. (I don't generally like to weave baby blankets in plain weave, because I want them to be a soft as possible.)
It didn't take long to make those two small handwoven baby blankets. I made them slightly different, and gave my customer her choice. She picked this one, which was woven with the same variegated weft as the warp.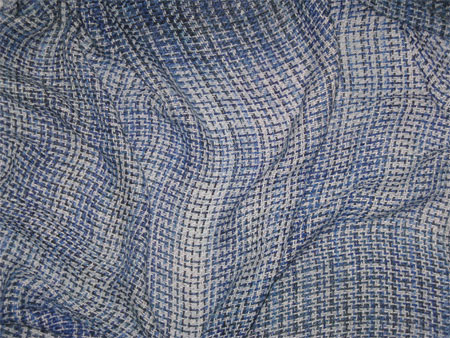 At her request, I finished this blanket with just a rolled hem. First I sewed a both a straight line and a zigzag stitch along both ends before I cut the blankets apart. Then I rolled and hand hemmed the blanket. I decided that this one was woven a bit more loosely than usual, and because I expected that it would be machine washed and dried, I'd be more comfortable with it wearing well if I followed up with another row of zigzag stitching along the edge of that rolled hem, so I did that, too.
As with most of my baby blankets, I finished the second one with a polyester satin binding. I also wove this one with 5/2 white pearl cotton so it looked more stripey than plaid-like.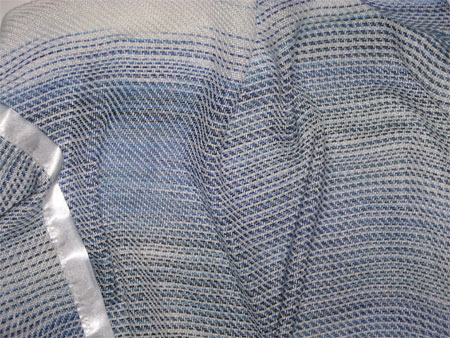 I have 3 or 4 skeins of this yarn left, and with just 2 basic colors, my plan at this point is to try preparing the warp so that I can make a false ikat. (Here's a site about real ikat.) However, I know myself; I have lots of plans that don't reach fruition, often simply because of time. I always have more ideas for cool woven stuff than I have time to weave.
Your turn: how many of your plans never see the light of day?