The Roycroft Summer Art Festival is over. The weather was conducive to selling scarves – not too hot & muggy. In fact, it was a bit chilly, making people want to look at warm things.
So what of my new weaving sold?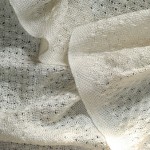 First to go were the two eggshell huck lace scarves. With a show that started at 10:00AM, I'd sold my first scarf by 11, one of these beauties. Â I displayed one of them in the front of the booth, on these really cool stands I have, thanks to my wonderful sister and her talented hubby. I sold the second within the next hour. I'm sure if I'd had two more, I could have sold them before the weekend was over, too; people loved them.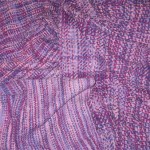 Next of my new weaving to be sold wasn't until Sunday morning, when I sold one of the cotton flannel shawls. It had drawn lots of admiring looks, but no takers. Then, a woman walked up to the booth, saw it, put it on, and bought it within a few minutes.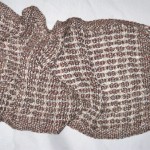 Later on Sunday I sold the cotton and linen Brooks Bouquet scarf I'd woven for a demo at the Kenan show. She really liked the mix of colors that still produced a scarf of neutrals.
Surely I didn't sell just four pieces all weekend?! Nope. I matched the pieces sold at Kenan. What else was snatched up?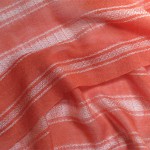 A variegated cotton flannel baby blanket. An alpaca houndstooth scarf. Several bamboo scarves woven in different colors and designs. Three cashmere & silk scarves, including a recent one in mango & cream. The drop-dead gorgeous purple & silver mohair scarf. A few rayon scarves.
It was a mix of fibers, sizes, weave patterns.
I've got some more rayon on the loom now, and can't wait to get it woven so I can start working with my newly-acquired silk yarn.
I have 7 weeks before my next show, but then in the next 4 weeks I have 2 more shows, so I plan to build up my stock by weaving my way through July.
Your turn: what are your creative outlets this summer?