One of the things people wanted at the Kenan show was more scarves in white or eggshell. I'd ordered the silk in white, and thought I'd get it in time to weave with it, so wanted to make something in eggshell.
I recently bought some eggshell cashmere & silk yarn, so perfect. I decided to try a new lace pattern in a diamond shape. I wanted to use a 7-thread huck instead of my usual 5-thread huck, and combined those two ideas. I sett the yarn at 18 ends per inch, which is the sett I used for all the cashmere silk lace scarves I've made, all of them successful.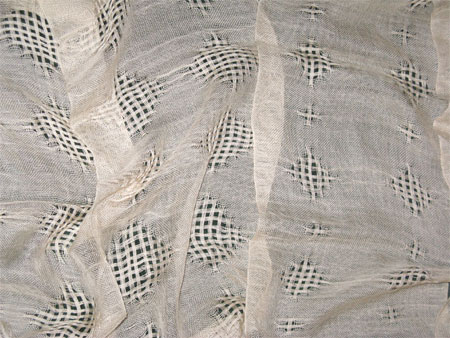 These scarves may look ok in the picture (I chose what parts to show you, after all), but using the three new ideas in combination was a recipe for disaster. There wasn't enough plain weave surrounding the lace for stabilization. The 7-thread huck had floats that were too long at this sett. And the Macomber, which I had to use for the pattern, is hard on the cloth on the cloth beam when I advance it. So all in all, the scarf is a failure and can't be sold. (It's the scarf on the left in the picture.)
So since I'd warped for two scarves, I decided to make some changes for the second scarf. I modified the treadling to make the pattern more stable, adding much more plain weave in the pattern. The scarf on the right is much more stable, but…
…there's one place on the scarf that the Mac really smushed the weft threads together. I could not fix it in the wet finishing, so this scarf, too, is unsaleable.
Poop. I think I'd better start changing my attitude about sampling, don't you?