Trust me, I don't bare my thighs. They are decidedly NOT attractive. But I can't help myself in this case.
Last night I was simultaneously talking on the phone with Margaret and winding a warp on my loom. I bent over to align my separating paper, and BAM, I was stung. Apparently a wasp had landed on my pants leg, and when I bent over I threatened it. Again, I never saw the wasp, before or after the sting. (Margaret had informed me that these were wasps, not hornets as I'd previously claimed.)
I immediately dropped the phone on the floor and went into the medicine cabinet. Since nothing I'd used on my hand had made a significant difference in reducing swelling, I figured I might as well try alternate treatments this time. So I grabbed the ichthammol, thinking it might draw out whatever toxin the wasp had injected. I slapped on a big glob, which felt fine, so I put a bandaid over it to keep it in place and away from my pants.
There was little pain, unlike my hand, so I kept working. Later I went to bed, forgetting I'd been stung till I changed into my pjs. Woke up and immediately was itching badly. Applied cortisone cream, which didn't feel good, so I knew I wouldn't do that again.
I've applied an arnica/st. john's wort oil 3 or 4 times today to reduce swelling and inflammation. It feels good every time. But this is what my thigh looks like 24 hours after the sting. It's not painful, but it is warm to the touch.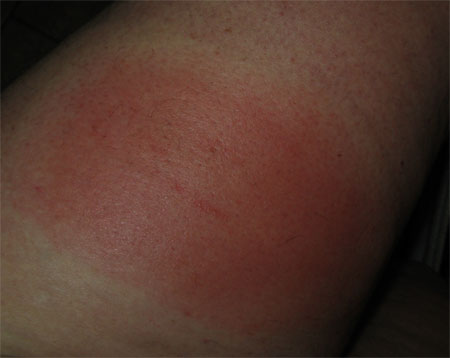 Obviously, this can't go on. So I had no choice but to declare war on the wasps in my house. Today we got 22 – a much larger number than I would have guessed. Some were squished, some put outside to live or die as nature saw fit.
I've not had this dramatic reaction to bee stings before, so I'm a bit curious as to whether my current physical responses are because these are wasps instead of bees, this particular species of wasps, or if I've developed a sensitivity to all types of stings. Not curious enough to do an experiment with stings, mind you, 😉 but curious nonetheless.
Your turn: Does taking bee pollen orally help reduce sensitivity? Is there something else that does?