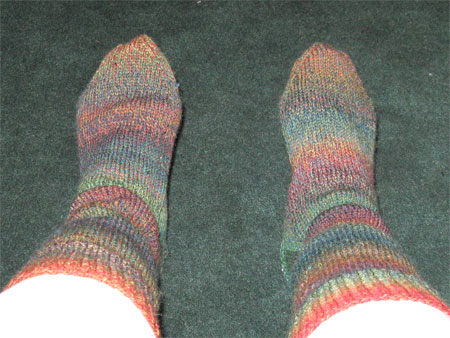 Obviously, these aren't the first socks I've owned. They are the first socks I've ever knit.
After all that Christmas knitting of the mug cozies and the baby things, I was in a knitting mood. So I decided I'd try my hand at making socks. I'd always heard how hard they are, but one of my fellow guild members assured me that if I just selected a simple pattern and followed the directions, I'd be fine.
After those words of encouragement, I picked up some self-striping sock yarn on sale, and I was off.
I'm quite happy with my first effort at knitting socks. They are a bit to sloppy-fitting for my tastes, and I'll definitely make the foot at least 1/2″ shorter next time, but other than that, they're fine.
I figured this pair would fit really fine if I could shrink them a tad. I tried washing them in hot water by hand, but that didn't have any effect on these 3/4 wool socks. Of course – when you want something to stretch it shrinks, and when you want something to shrink, it doesn't. Next time I have a load of clothes to wash, I'll throw them in the washer, and we'll see how that works. If it has no effect, I'll pass them on to someone with larger feet.
Your turn: do you have suggestions on how to shrink my new socks?
All of you observant blog readers have surely already noticed the little logo that showed up at the bottom of my blog on Monday. I joined the 30-day post-a-day challenge at the V7N network. Click on the logo to see what others who took the challenge are writing.