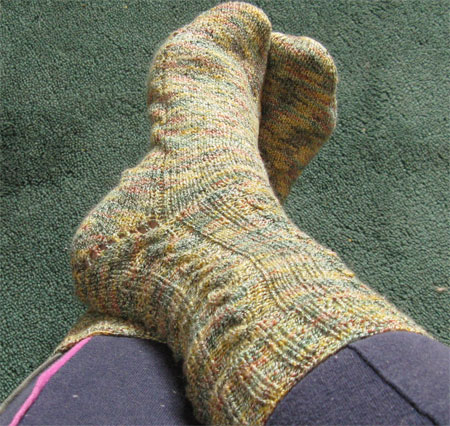 After knitting my first pair of socks, I knew I'd knit more. I also knew I had to make the next pair smaller, a shorter foot and a leg that hugged the leg.
For the first pair I used I downloaded from Patons, since I was using their Kroy FX sock yarn. Although I had no idea as I was knitting that it would be so loose, I was concerned about sizing. I followed their pattern exactly, and was several yards short of completing the first sock. I had to make the leg of the second sock shorter to make sure I didn't run out of yarn completely. (It's supposed to take 2 skeins of yarn for a pair of socks, and that's what I bought.)
So I decided I'd try a toe-up sock for the second pair – when I got to the end of the skein, the sock would be done. Again I used a Patons pattern, although with a different one of their sock yarns. This time I used a their Stretch Socks yarn, which has 7% elastic in it. As this was a thinner yarn, and I wanted to make the sock tighter, I moved from a size 3 double-pointed needle down to a size 1. Also, I modified the pattern to add cables along the length of the leg. And I made the foot 1/2″ shorter than the first time around.
I was a bit worried that I'd pull the yarn too tightly while I was knitting and pull the elastic too much, but that didn't happen.
These socks definitely fit better, but still not perfect. I'll make the next pair even another 1/2″ shorter.
I wonder how this style of heel turn will last. It looks much more like the heel in commercial socks, and doesn't have the same thickness as a typical gusseted heel.
I've looked at lots of other sock patterns, thanks to the folks at Knitting Pattern Central. I'm getting ready to start another pair. You'll have wait along with me to see what I come up with.
Your turn: if you've knit socks with both a gusseted heel and a simpler turned heel, did you find a difference in their wear?