While I still must have my leg elevated most of the day, I figured that doesn't mean I can't weave at all. Particularly on my wonderful counterbalance loom, I do the majority of my weaving with my right foot, and can do all if it with my right foot if need be.
So I merely had to overcome the technical challenge of how to prop up the left leg while sitting at the loom. I decided to make some of my product storage containers serve another purpose.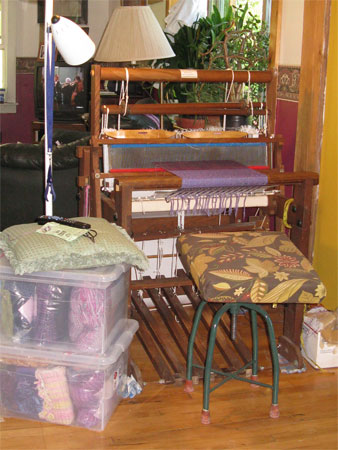 I do have to say that while this setup got my knee at approximately the same height as my butt, which was the goal, I had to have my body at a twist that wasn't very comfortable. I could only weave for about 1/2 hour at a time, and then take a good long break before I could go back to it. But still, I didn't have to forgo weaving altogether.
Your turn: what kind of unusual setups have you devised to do what you love?