These were the last four scarves I finished weaving before the knee surgery.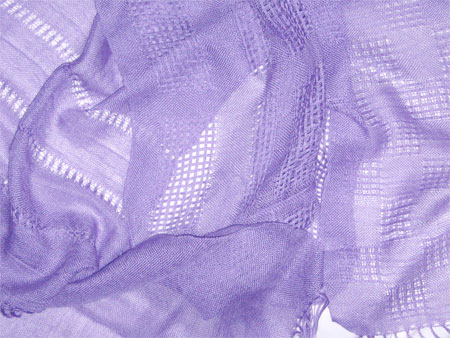 I'm still finding beaming the fine gauge cashmere-silk blend (6,000 yards/pound) a challenge, so I'm still preparing warp for just two handwoven scarves at a time. This photo therefore represents two separate warps, two separate threadings.
At the far right is a Swedish lace scarves woven in alternating windowpane blocks. That was warped with the tabby at the bottom left. Second from left is a huck lace in woven in rectangles of different widths, which was warped with the scarf at the top left. Also a plain weave, I did a hand manipulated leno at the ends: 3 bands at each end. Since it's hand manipulated, leno is time consuming, but I do like the way it looks, lending a great airiness in a little space. With a few bands at the ends, I think it adds a lot of class to a tabby weave scarf.
I must admit, the lavender color is substantially lighter than shown in the picture — I tried several different camera settings to get the color accurately, all unsuccessfully. You'll just have to take my word for the color.