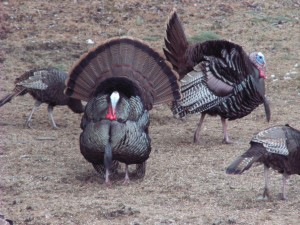 Ah, Turkey Day. In addition to bringing to mind all the reasons we have to be grateful, for most Americans it's filled with traditions. As a kid, I have a few essential Thanksgiving memories: my mom getting up early to begin drying out white bread in the oven, later to be cubed, mixed with chopped onions & celery & pounds of margarine for the stuffing; watching the parade on TV; and getting the jellied cranberry sauce out of that can in one piece. These three were constants.
When I had my own family, we adopted several of my hubby's traditions – using bags of various Pepperidge Farm bread blends (cubes and crumbs) as the base of the stuffing instead of white bread we'd dried in the oven, adding sausage to the stuffing, and cooking that turkey in a paper bag.
If you're like I was that first year, you're now saying, "Huh? Cook the turkey in a paper bag?!" Yep, you butter the inside of a brown paper grocery bag, slip Tom into it, fold the end over and keep it closed with clothespins. It really does keep in the juices and reduce cooking time. I'm sure its where Reynolds got the idea of their browning bags.
One Thanksgiving tradition that's remained constant throughout my life? Getting that jellied cranberry sauce out of the can in one piece. 🙂
One of my sweetie's weirdest traditions? An essential leftover lunch included a stuffing sandwich with on doughy white bread. With mayonnaise WHAT?! That's a bread sandwich! Putting bread between two slices of bread! Yep, I agree, it's totally wrong, but my comments never budge the practice. Nor could his insistence make me try it.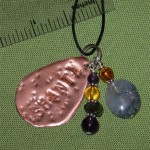 Remember the prize this month? It's a healing gemstone talisman. Made with moss agate, amethyst, amber, peridot, and my coppery wishes for peace.
So as part 2 of the November contest, what's one of your Thanksgiving traditions? Tell me sweet or odd, long-standing or newly-formed. If you don't celebrate Thanksgiving, use another food-centric holiday of your choice. (You can still respond to the first part, if you prefer.)