I've thought a lot about who I would mention as the person I'm grateful for.
Of course, I love my son and daughter to death, and am so thankful for their presence in my life. I could write volumes about each of them.
I considered my two wonderful sisters, all my other relatives, and the great folks I work with. I thought about a variety of friends.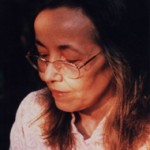 Ultimately I decided to pause on my friend Margaret. We speak daily. Often several times daily. Margaret makes me laugh far beyond the gags in her cartoons. We share similar taste in many things – books, movies, and music – each stretching the other's repertoire. We've each gotten the other hooked on certain TV shows. She understands exactly where I'm coming from, since we have many parallel life experiences. She never judges me when I say silly or inappropriate things, is great to bounce ideas off, and is honest when I ask for her opinion.
And we share a first name. How cool is that?!