After learning how to make lace on my beloved, handmade counterbalance loom, I made handwoven lace scarves in several colors (black, periwinkle, dove gray, and a marvelous russet brown) of very fine cotton. People have loved them at the shows — so much that I keep selling out and not getting them up onto my website. In fact, I have orders for more handwoven cotton lace scarves that I have to get to ASAP.
With the onset of autumn, I decided that I needed to make some woven lace scarves in a similarly fine wool. I used a 20/2 Swedish Mora wool, which is pretty much fulling-proof. That means it will retain its lacy appearance and not get all fuzzy like wool often does when it's washed. This is very important when making lace — you'll see why if you keep reading.
Here's a nice pale green on my vintage 4-harness counterbalance loom.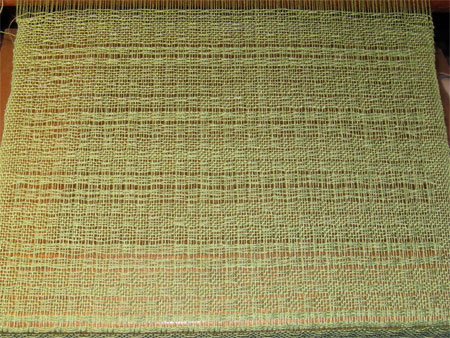 Like all woven lace, it's hard to see what it will look like when it's done. That's because the tension of the loom holds everything still – both warp and weft threads go in fairly straight perpendicular directions, so the lace effect is very subtle.
Every single piece that comes off a weaving loom must be wet finished – hand washed with an appropriate amount of agitation to settle the threads.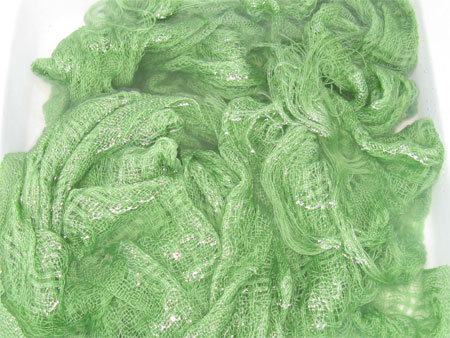 The agitation is particularly important in the case of woven lace, because the threads need to shift themselves around, creating the open spaces that result in the beauty of the finished piece. With cotton, no problem – you can treat it rather roughly. Wool, on the other hand, is much fussier. It's certainly true that your favorite wool sweater can be made small enough to fit your kitten in washer and dryer. Most people blame it on the heat, but the agitation of the washing machine is a major culprit. It causes the wool to "full" or "felt" – the threads get fluffed up, thick, and tight. That's why it's important to find fulling-proof yarn if you want to make a wool lace.
And now for the finished handwoven lace scarf.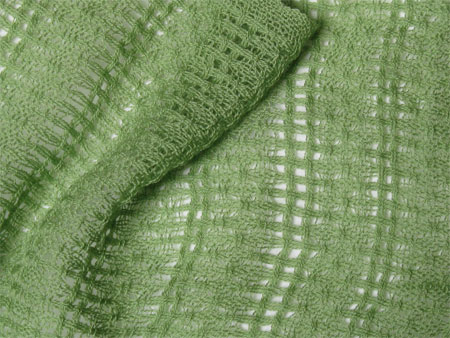 I think it's really lovely – soft and sweet. This piece is almost 12″ wide and 72″ long – wear it today as a wide scarf and tonight over your little black dress as a narrow shawl.
I think it's interesting to see the difference between handwoven lace in wool and cotton. Here's the green wool and a russet brown cotton.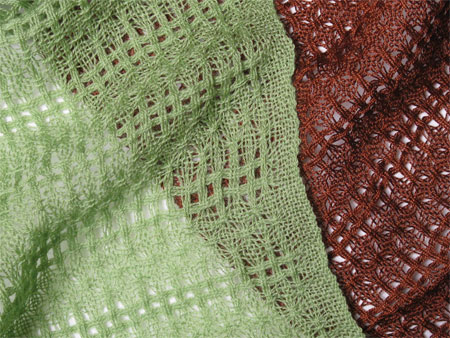 The cotton is a much crisper look. Although wool obviously feels different than cotton, I think they are both quite soft.
If you're in the area, I hope you'll visit my booth at the Letchworth Arts & Crafts Festival or my home during the Allegany Artisans tour to see the handwoven lace and all my other scarves.
2014 Addendum: A few people have recently asked for this draft. It's not my original; it can be found in the May/June 2009 Handwoven magazine, which I've recreated here. Repeat the threading & treadling as desired or needed.