It's fall. Although the grass is still green, browns, reds, and ochres predominate here in the hills of western New York. I decided that the prize for my free handmade jewelry contest this month should somehow reflect the autumnal season. In fact, this bracelet is a new design of mine.
I've had a few different designs of porcupine quill necklaces and porcupine quill earrings for several years now, but bracelets present particular problems when working with quills. Quills are fragile; they bend, crack, and break easily, so need to be strengthened by being threaded onto sterling wire. Regular beading wire doesn't provide enough stability, and stretchy cord is simply unacceptable. Trust me, I've tried them all. I couldn't come up with a bracelet design that both supported the quills and pleased me. Until now.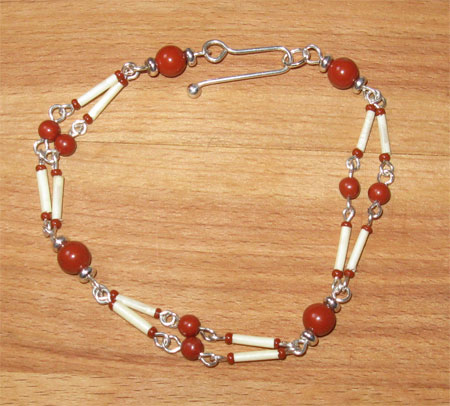 This bracelet is made from porcupine quills, red jasper, and sterling silver, including a sterling silver handmade clasp.
I'm often asked how I prepare porcupine quills for my handmade jewelry. It's a lengthy process. After the quills are removed from the porcupine, they need to be cleaned in warm, soapy water, sterilized with a bleach solution, and then laid in the sun to dry. Both ends must be cut off to remove the barbs, and then it's trimmed to length. Tedious and time consuming.
I like to use red jasper in my handmade jewelry designs. In addition to providing a nice, rich, warm color, red jasper is a great healing gemstone. It helps improve self-worth and enhances body image. It protects against negativity and promotes beauty, grace, and healing. Red jasper is also helpful in understanding and improving family relationships.
So how can you win this handmade bracelet? I've decided to repeat last month's challenge. Simply leave me a comment on any one of my blog posts this month (entries must be received by midnight on Friday, October 30) to be entered into an end-of-month drawing. I'll notify the winner on Halloween.
If you love the concept of quill jewelry, check out my necklaces and earrings. Unfortunately I haven't had time to put them on my website, so you'll have to come to one of my shows or contact me for pictures.
I can't announce the September winner yet; I'm waiting to hear back from her. (Check your email to see if you've gotten a message from me.)