If you're in the northeast this week, you know it is C.O.L.D!! Wind chills hover around MINUS 20 degrees (F) today! The perfect opportunity for me to take some photos and post to both my blog and Etsy.
Although today is February 3, I did manage to finish the promised (to myself) 10 Beads of Courage bags for January.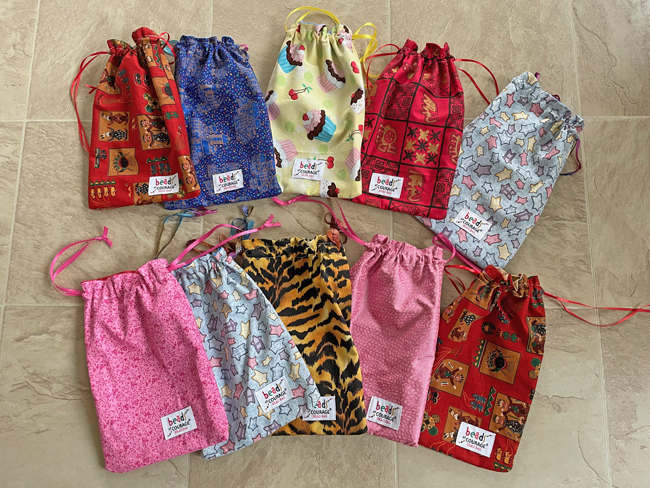 I succeeded in making 10 bags in each of 6 months in 2022. I'm shooting for more in 2023. In fact, I got 20 more cut out, so bags cut for both February and March. I find it easiest to cut the fabric when I'm hosting at the Weaving Center as their tables are larger than mine, so I'm happy to have a bunch more cut and ready to sew.
I just finished hemming another batch of Fibonacci towels last night. So today I got them photographed and the listing up in my Etsy store.
Here's a shot of all 8 towels.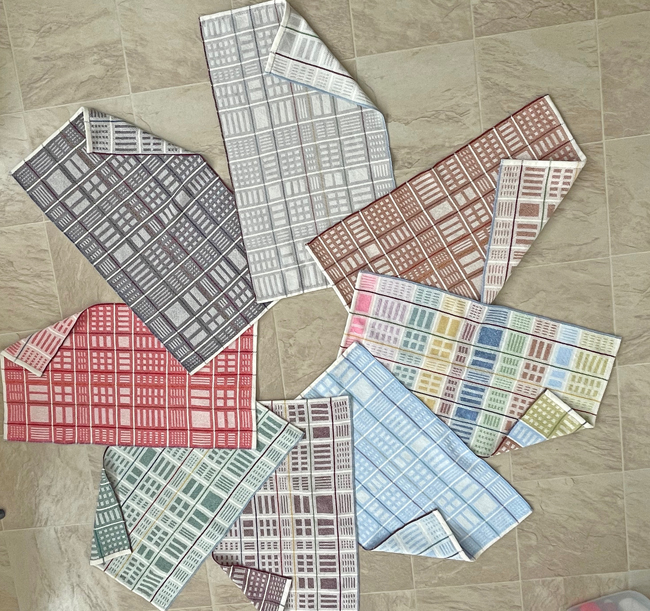 That multi-colored one was inspired by the fact that I'd auditioned various weft colors in my weaving software. I liked the way it looked on the computer so wanted to try it in real life. I wasn't sure if I'd like at much woven up, but I do. We'll see what potential buyers prefer.
To see all of them in their individual beauty shots, you'll have to go to my Etsy store, as I didn't want to resize each twice – once for the size needed for my blog and once for the size needed for Etsy. I call it a way to both minimize my time in front of the computer and maximize my laptop storage space.
As far as my hugs go, I ended up posting the offering of the last remaining hug from January to my wonderful BuyNothing group. I now have 9 people on my list, so I'll be weaving more hugs, probably starting next week.
For now, my loom is taken up with my traditional February activity – my Christmas cards for 2023. I've taken some on-loom shots, but don't want to spoil all the surprises. They'll come off the loom this weekend, and I promise I'll take photos then and post again soon.
I'm going to leave today with a group photo from the most recent class of the Grateful Line Danze Krew. These women provide me with more joy, love, and support than I can adequately express. I am truly grateful to have them in my life.