In my last post I showed you a piece of weaving produced on my inkle loom, and told you that I was working on a project I hoped to submit to a show. After much work, I now think I have all the weaving done. Some finish work remains, and I have to determine how I will hang the various pieces and make it work all together. But here are all the woven pieces, in the orientation I currently intend.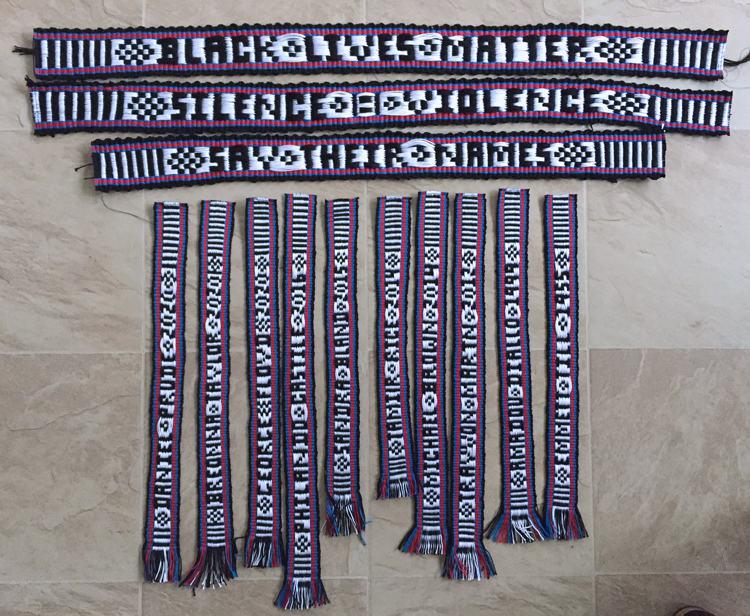 I spent at least 12 hours between my computer and the inkle trying various methods to weave the 3 'banner' sections at the top. I wanted those words to be larger than the names, but couldn't figure out the best way to do that. So I'd warp the inkle with scrap yarn and try something. Nope. I'd come to the computer and try to work out a draft that I'd do on my 8H loom. Nada. I'd warp the inkle again to try a different method. Closer, but no cigar. Go back to the computer and try again. This time try both 8H drafting and in Excel, shape the rows and columns to try and graph the letters differently.
Finally I warped the inkle with scrap one last time and finally got something that met my expectations. Then I could warp it again with the real yarn and move forward. I am happy with my final decision on all of that. The only part I don't like is how the zeros look in the years with a 20. I didn't want them to look like the Os in the names. Oh well. C'est la vie.
Now if I can figure out how to display it appropriately without detracting from the overall look and impact.
I started this project in late September. So it's been weeks since I've done anything else that's even faintly weaving related. Except…
I'd like to make some more garments, and cotton is the fiber of choice. So when I saw a good deal on large cones of 8/2 cotton, I ordered two. It's natural/undyed, so it will give me dye opportunities, too. The seller, who is reputable and has sold me yarn previously, sent me the FedEx tracking number. Which showed the shipment as Pending for 10 days. At that point the seller said she'd send me 2 more cones immediately. And since I'd been so patient she'd add more yarn to my order at no additional charge. Well. This box arrived the other day.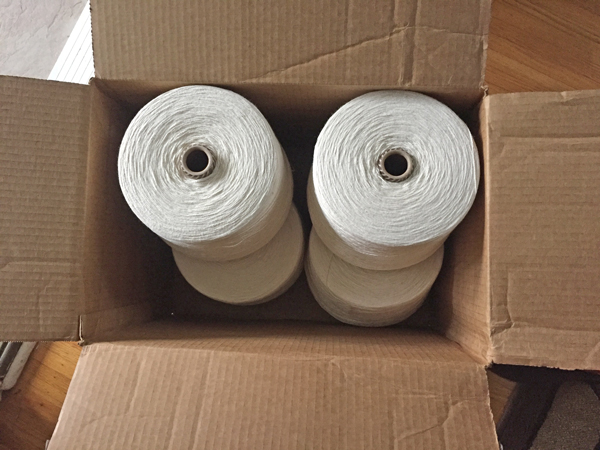 That's A LOT of yarn! Roughly 14 pounds of it, for total yardage of about 47,000 yards! Guess I'd better get busy now that my time at the inkle is complete.