I finished that warp of 9 towels in the random Fibonacci stripe pattern. Used 6 different wefts and treadled just 2 different twills. Four of them – not sure which ones yet – will go to our Guild's towel exchange.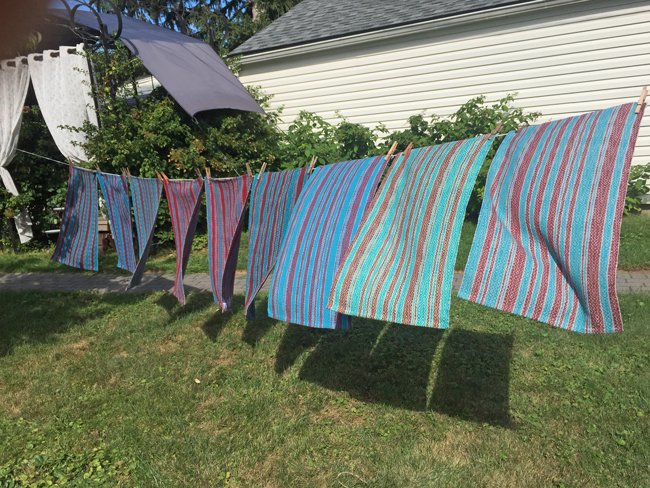 Don't they make a lovely fall flower?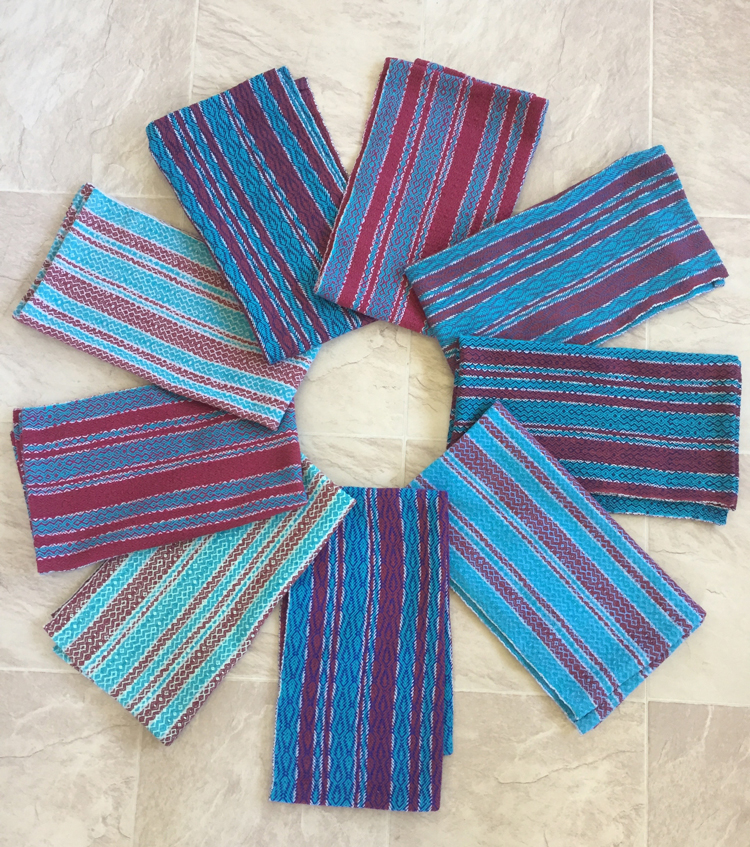 ***********************************
My son has totally inspired me this year. He's been canning like mad. Even bought himself a used pressure canner so he'll be able to can venison this year. :-O So I decided to make and can a big batch of ciambotta – an Italian veggie stew sort of thing.
Although the veggies are certainly changeable, in my family there are a few must-haves. Of course, every good Italian recipe starts with sauteing onions & garlic. The only other essential ingredients are fresh tomatoes, zucchini, and green beans. Now is absolutely the season for farm-fresh of those 3 items. I picked up extra of them at the farmer's market and got busy. I added chopped celery and sweet red peppers to the saute, then tossed in a bunch of tomatoes – red and yellow – and the green beans. Chopped up and tossed in fresh parsley and basil from the garden and some salt & pepper. Last in was the zucchini because I didn't want it to turn into mush.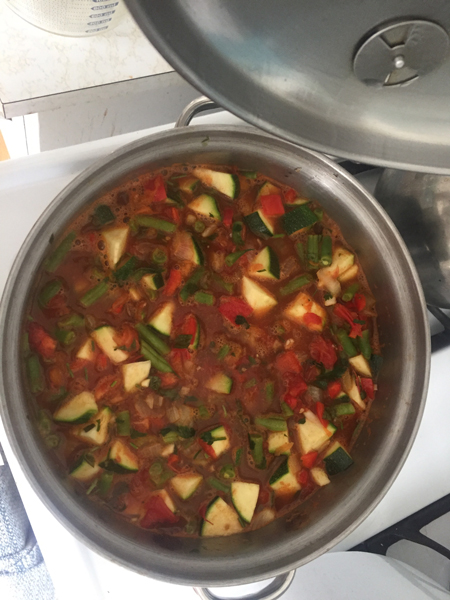 I covered the pot, stirred often, and brought it up to a point when it was all at a slow boil. Then right into the waiting canner. And voila! 5-1/2 quarts of ciambotta.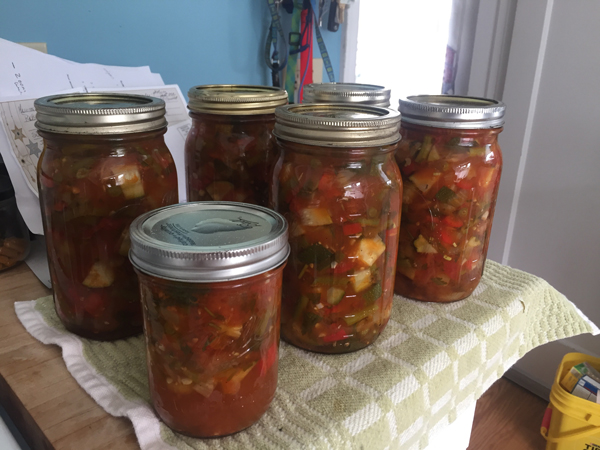 I hope I processed it for long enough. With the tomato base I processed as if I was canning tomatoes, so 45 minutes. I've never done this before, so hope it turns out well. And doesn't poison me.
When I'm ready for a fresh-tasting soup that reminds me of summer, I'll boil up some pasta separately. Then I'll add either pasta water or a bit of broth to the heating ciambotta.
***********************************
After making the sunrise/sunset top with my handwoven I decided it was time to go further, to make myself some more clothes. So using a combination of a commercial pattern and some photos I found online of other handwoven items, I got out my newsprint and an old sheet saved just for this purpose and set to work.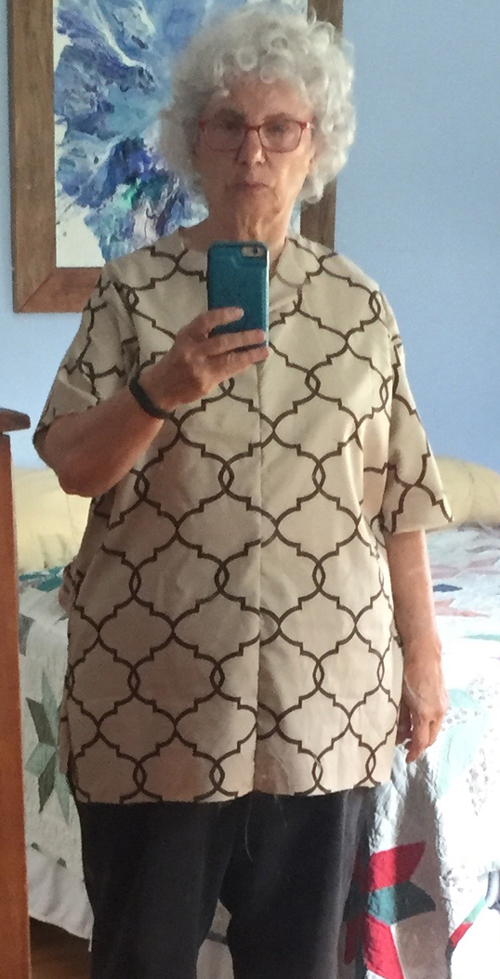 I had to draft that sleeve 3 times and it's still not perfect – my notches and center top absolutely do not match – but I can set in the sleeve just fine. I'll make the real thing a little bit shorter, but am quite pleased with myself for getting this far on my own. Of course, I didn't finish any of the edges or sleeves on this mock up.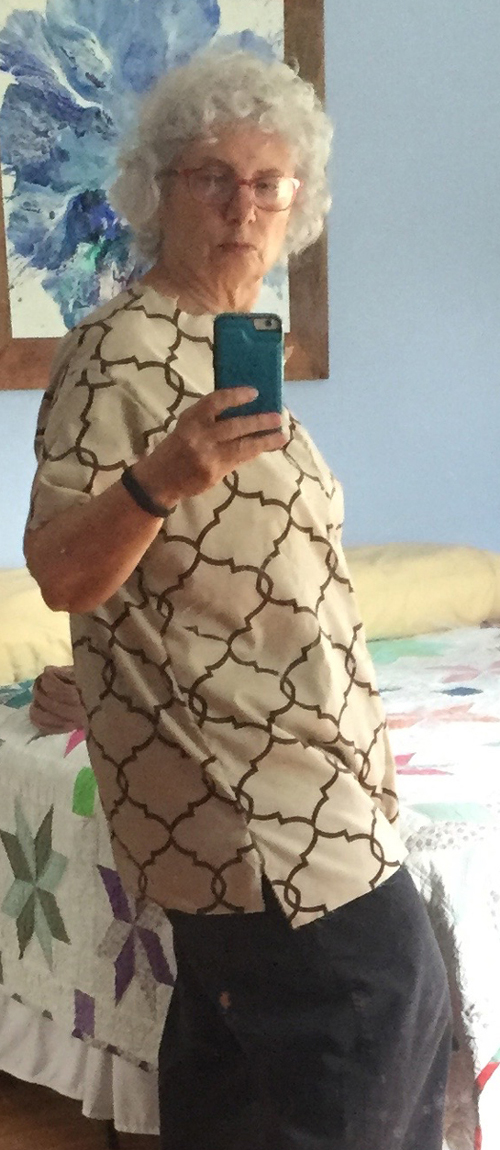 I have 2 pieces of yardage I wove some time ago that I wanted to use. Of course neither is enough to make the garment. I could use one to make a sleeveless version, but with the cold weather almost upon us, that doesn't make sense to me. I can possibly recreate the warp and weft of the other fabric and plan for that to be the next thing on my loom. I'm excited.