This is a test. This is only a test. If this were a real emergency I'd have links to purchasing this wrap immediately. 😉
Seriously, I'd never taken a video of one of my pieces before, and I had no idea how this would work in my blog.
My preview shows me that it works fine, although you can tell I need more practice moving the camera.
Anyway, this is one of two of the last pieces to come off my loom before my show this weekend. All yarn is 8/2 tencel. The warp is a gradient from solid black to solid white. For this mobi wrap, the weft is a very pale silver-gray. The weave structure is a lace pattern I designed.
The second piece is a long vest. Because of the gradient in the warp, this isn't my favorite piece…I'd prefer that both front pieces were the same. I do think that difference will really appeal to someone, though.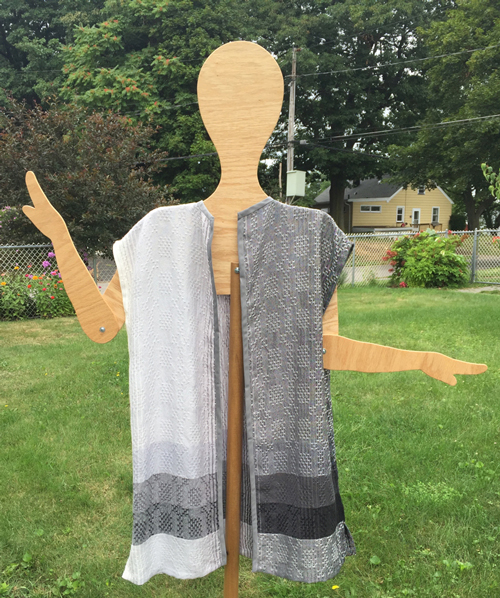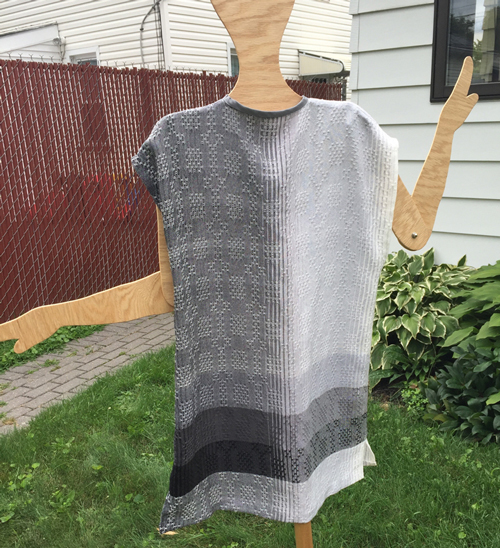 Because of the gradient, I had to do a few things differently than my previous long vest. I had to split the width for the front, of course, but couldn't use the selvedges for the opening. In order to match the back, the selvedges had to be 'wasted' by sewing them into the side seams. That meant I had to find another way to finish the front.
After much pondering, I decided on double-fold bias tape. I chose a tape that's 1/2″ wide, thinking it would look better than the tiny 1/4″ tape. I used a stitch in the ditch technique to avoid as much visible machine work as possible. Of course, despite my extensive pinning and slow stitching, there were some spots where the machine didn't catch the back tape and I had to do some tiny hand stitches to secure it.
This vest actually required LOTS of hand work. After the shoulder and side seams were machine stitched, I hand hemmed all seam allowances down for a nice smooth finish. Then the stitching around the bias tape. Then the hand hemming. And all this came AFTER I had done the necessary needle weaving after the fabric came off the loom. I spent more time on this piece than I will be able to recoup in sale price. Sigh.
I'm off to pick up the rental van so I can load it up. Wish me luck this weekend!