I was reminded just how much slower it is to use levers on a table loom than treadles on a floor loom while I wove these 22 bookmarks on my Missouri loom at the pop up shop.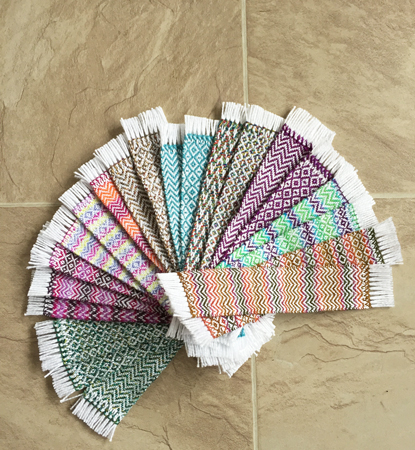 I think they look rather like a fanciful turkey tail here.
After I finally finished these I brought in a rayon chenille warp AND the setup to connect the treadles for this loom. SOOOO much more efficient!
Meanwhile at home I finally finished the warp painted vs. skein painted pieces. It was interesting…while I was weaving them I alternately loved and hated them. That's unusual for me. So I had to reserve judgement till I got all 3 off the loom, finished, and hung. Now I like them all. So, in the order woven and finished…
This shawl has a black tencel 8/2 weft. Although the picture has a bright side where the light is and a dark side with shadow, I feel that the colors are accurate, so didn't try to make any 'improvements.'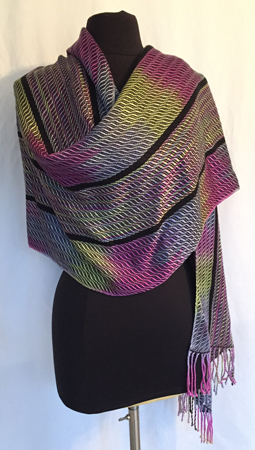 Next up, I think some of my customers wouldn't like the brightness of the above colors, so decided to tone them down with a natural weft. I used 3 strands of 16/2 unbleached cotton held and wound together on the bobbin.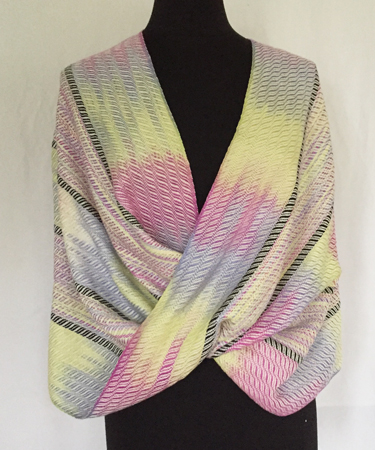 For the last piece, I intended to sew a 30-minute jacket with it, so wanted a cotton weft. I chose a really dark 8/2 navy unmercerized cotton. I like the interplay of the shiny tencel and the matte finish cotton.
After it was all woven, washed, and dried, and I sat down to do the sewing. Oops! Don't know what I was thinking…I need half-again as much length for that as I had planned for and woven, so it, too, turned into a mobi.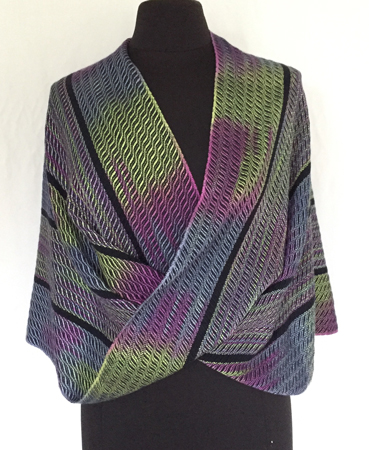 I don't know if I prefer the light or the dark. I do know I like the concept of using both warp painted and skein painted yarns in the same piece and will do that again.
I also know that I'm getting anxious about my weaving output. Between dyeing, towels, socks, onesies, and slow-woven bookmarks, I am nowhere near meeting my monthly goals. That means I either need to significantly over-produce in November and December — hard to do with the holidays — or resign myself to cutting out one of the great shows I do in the summer. The applications for both are due early in 2019, and I need to be confident I can build my stock sufficiently to be ready for both. Not sure how this will turn out.