I think in my prior hand painting I pretty much always mixed colors. This time I decided to use a few straight. My goal with this 8/2 tencel warp was red and orange. I used mixing red and tangerine. What I got was a dark pink and a pale orange. A learning experience.
I also learned that I like the painting more when the colors are not as different as they are here. That is, when the eye doesn't stop and start where the colors change, but rather shifts smoothly along the length. Another learning experience.
I threaded the loom for a twill weave I've used several times before, what I call feathers. For the first scarf I used a tencel burgundy weft, hoping to shift the whole look to more red. It did that, but didn't excite me. I'm also disappointed that there's a section of the 'red' that's really pale where I clearly didn't get quite enough dye on the yarn. (The colors are not as garish as they appear in this photo.)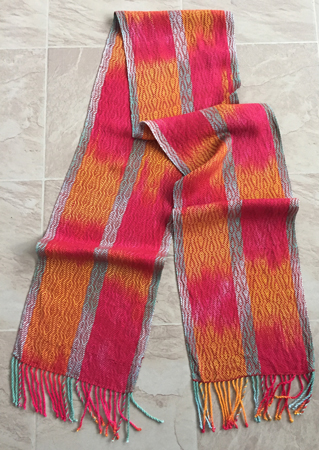 For the second scarf I decided to use a gold weft, and to change the treadling to create long zig zags. I prefer this color combo.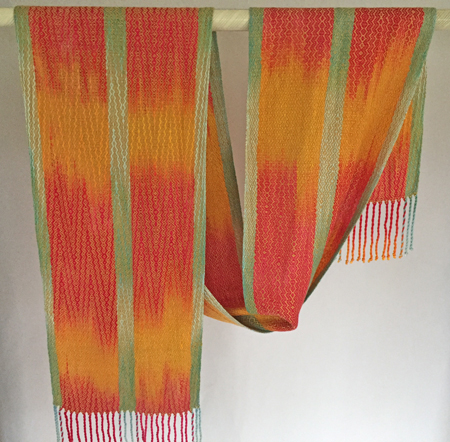 This scarf told me it wanted some beads on the ends. In hindsight, I wish I'd secured the beads between the fringes instead of contained within them. Next time.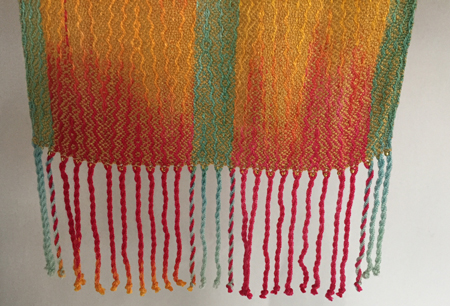 I had only wound enough warp for these two long, fringed scarf and a short cowl. I debated quite a bit about what to use for the weft for the cowl. I really wanted to shift the colors to the orange that I'd tried to dye for, but I don't have any orange tencel, and none of the browns, siennas, or red-oranges did what I wanted. Then I remembered that I had some orange mercerized cotton. I thought with its sheen, it would look good. When I opened that bin I saw that I had two oranges, one a 20/2 and the other a 16/2 (non-weavers: they're both quite fine). One is a red-orange, the other more of a true orange.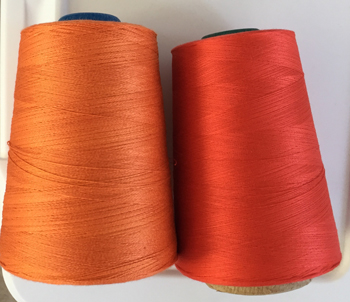 Neither would work alone, so I decided to try winding both onto a bobbin at the same time. I have no idea what weight the final yarn ended up being, but I love the way it worked with my warp colors, and it was still plenty fine to give the cowl a good hand. While I could easily see both colors on the bobbin and while I wove, once the scarf was wet finished those two oranges blended quite well into one. Interesting.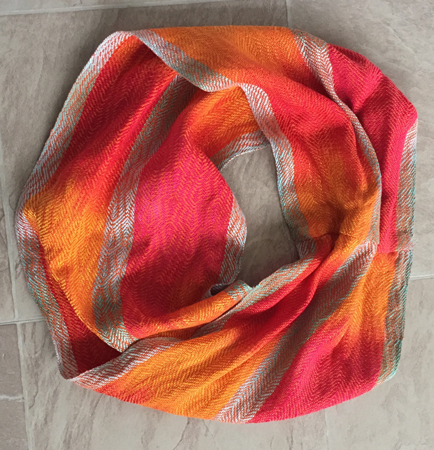 Like photographing red, the colors here aren't accurate. But this is my favorite of the three.
These scarves were woven and finished in April, bringing my total for the month to 9. Yippee!
Unrelated – the spring weather is crazy. A wet, spring snow was falling on my walk on Sunday morning, yet the grass has been growing so rapidly that I had to do my first lawn mowing on Tuesday. Nuts!