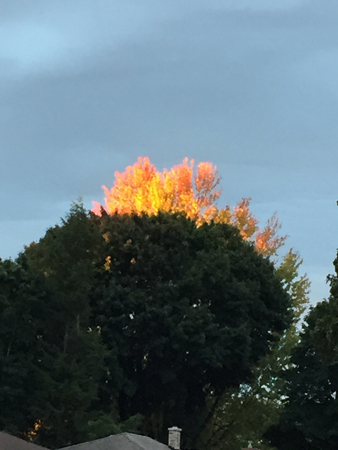 As Ben Franklin once said, the only things that are certain in life are death and taxes. Like everyone else, I much prefer the changes I choose to those that are thrust upon me. Still, I have to deal with those, too. And since I'm not a woman who believes in letting life simply happen to me, that means I have to do something.
Just one short paragraph on the election. I am very concerned about the election of Donald Trump, about what it will mean for people he has stated hatred for in one form or another. About what it will mean for us as a country. So I am hoping to set a few things in motion. I have sent out emails to encourage a few people to join together and send Reiki to Trump and Pence, with the intention of opening their hearts. The same thing could be done with Bohdichitta or probably a specific type of prayer circle or other practice. I also intend to start actually having regular communication with all of the people elected to represent me, something I've only done very sporadically in the past.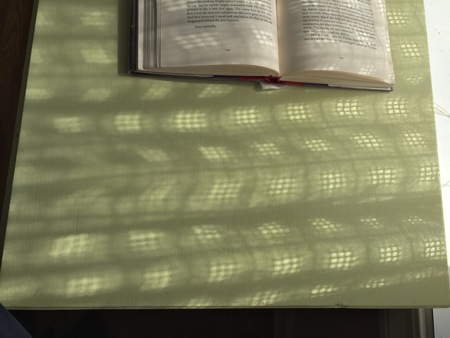 Moving on to the personal…being a micro-business owner is a challenge. As a weaver, selling my work is what it's all about. Never easy, it's getting harder. Fewer people go to and spend money at art shows than they used to. I get it. I, too, buy way more things online than I used to. And I, too, have made conscious decisions to reduce my unnecessary consumption and ownership. So what to do?
I've made three decisions, things that I didn't think I'd do.
I've reactivated my old Etsy page, which I started before I ever had a website and let go years ago.  When I redid my website last year, for a variety of reasons I made a conscious decision to make it be more gallery oriented than sales oriented, and I now think Etsy is a better alternative for actual sales for me.  With only 3 items up at the moment, I'm going to spend time taking photos and getting posts up over the next few weeks.
I'm going to approach a few carefully chosen stores to place a few of my best pieces in them…the Copper Shop on the Roycroft campus and one or two more.
I'm biting the bullet and joining Facebook.  I'd like to have just a page for the business, but it appears that I need to have a personal page – or at least a personal profile – in order to have a business page.  I know that there is at least one Facebook group that deals with my baby wraps, and I need to have a presence there in order to sell more of them.
I'm putting a link to my Etsy page up in the header of my blog today, and as soon as I get myself established on Facebook I'll put that link up, too. Only time will tell if these decisions work well for me.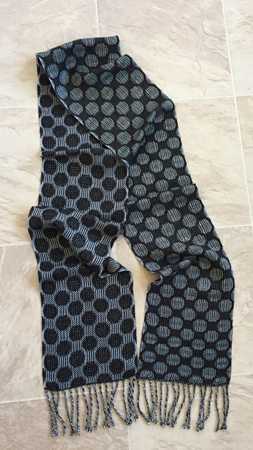 The above scarf is a weaverly long-distance collaboration. A while ago, Susan over at Iowaweaver posted a draft of a weave pattern she'd developed to weave circles. Because warp and weft threads intersect at right angles, this is not an easy task unless you have lots of shafts. Susan's draft was for only 8 shafts. I wanted to try it and painstakingly copied her draft to my weaving software. But found out that there were REALLY long floats on the back side of the weaving. So I modified the tie up and treadling and came up with the above. There are 4-end floats, which I find to be acceptable in a scarf but might not be in a towel. Susan's other readers have further modified it to have shorter floats, but then the circles are less round.
In any case, being someone who does not sample (I know, I know!), I set my loom up for 2 scarves with 8/2 rayon. Wove the first scarf at 21 EPI, the second at 24 EPI. If I do it again, I'll sett even closer. And I'll pay more attention. Do you see that the circles at the beginning of the scarf are not the same as the circles at the end? Apparently I forgot to treadle part of the sequence. And on the first scarf I apparently forgot the thread part of a sequence so my middle circle is actually an oval. I haven't decided if I'll put either out for sale yet; if I do they won't be at my regular prices.