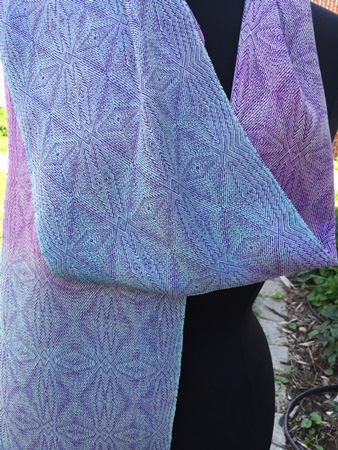 Time, that is. The days, weeks, and months just fly by. Two weeks from today I'll be at my next show. YIKES!!! Do I feel prepared? Um, no. Will it be fine? I'm sure. I've not done the Clothesline Festival before, and have heard such wildly mixed reviews from others that I have no idea what to expect from it. But I know what I expected from myself, and that was to at least mostly replenish my stock with the number of scarves, shawls, and other items I'd sold in July. I had two whole months!
Well, I'm not too close and now I have just two weeks. My goal was 9 shawls, 21 scarves, and several little items. Plus I'm completely out of my packing bags, which I sew from pillowcases.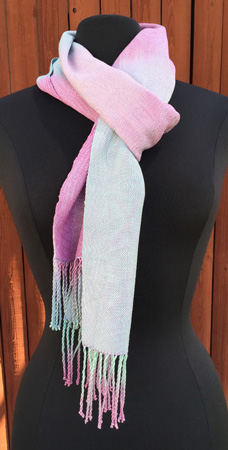 So far I have 6 shawls, 7 good scarves and 3 not-good ones, and no little items. I don't think I've done great planning. Maybe I shouldn't have spent so much time dyeing yarn. Or making pants. Or taking photos, or blogging or figuring out why the contact emails on my website weren't getting to me, or….what are those other things that eat up my hours?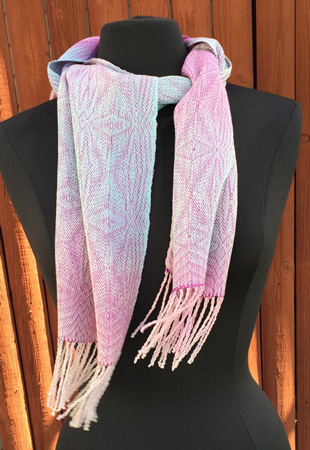 I've already made some other decisions that may not have been the best, too, decisions that I'm too far into to change. I just keep telling myself that it will be fine. Maybe I can start to believe it.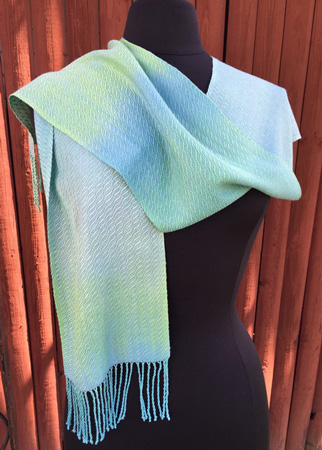 So the photos in this post, from the top down – all warps are hand painted 30/2 silk:
snowflakes with royal purple rayon weft, same weight as the silk so the motifs are square, unlike the next two
snowflakes with 20/2 lavender silk weft
snowflakes with 20/2 red-violet silk weft
watery silk with 20/2 ice-blue silk weft
watery silk with very fine (same weight as the warp) slate blue cashmere silk weft