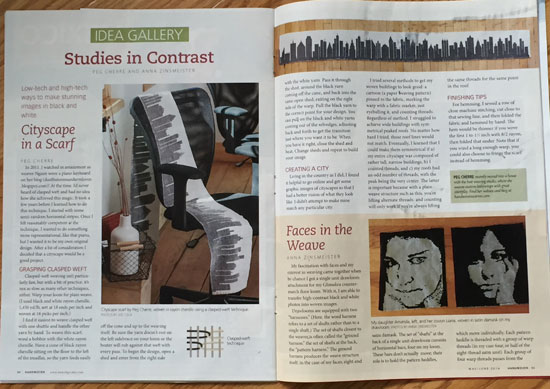 Does the scarf in that spread look familiar? It's my cityscape scarf, published in the new Handwoven magazine. This article was 11 months in the making, from me watching a webinar on how to submit to the magazine, to having the scarf accepted as a concept, to having it published. In between, the USPS lost the scarf in the mail for a month, making me crazy. But it all worked out in the end. If you can't bear not reading it, here's a PDF of the article.
I also just got notice of my acceptance in this year's Clothesline Festival. Now that I live in Rochester I wanted to get into this well-respected show, so was holding my breath that I'd be accepted. I think this will be a predominantly new audience for me. You can get details on this and the other shows I'll be doing this year on my website.
A few weeks ago I showed you a braided twill scarf on the loom. It took a while for me to get them fringed, wet finished, pressed, and photographed, but here you go.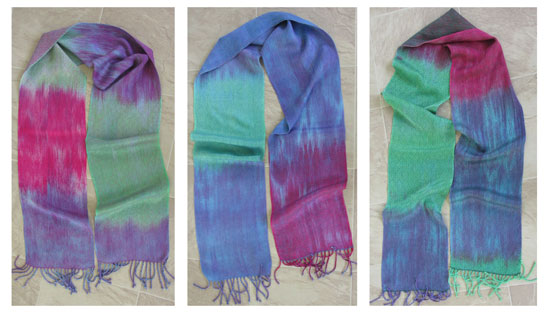 I thought I'd done a better job of color changes on this warp…they're still too long. And that pink is garish. Sigh.
Anyway, from left to right the weft colors are red-purple, medium blue, and forest green. The blue is by far my favorite of the three. The close ups of these scarves, showing the front and back of each, are pretty dramatic.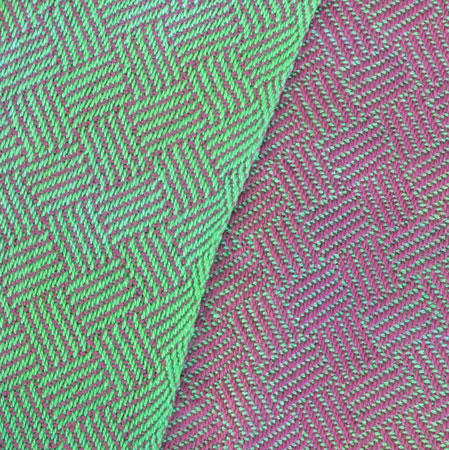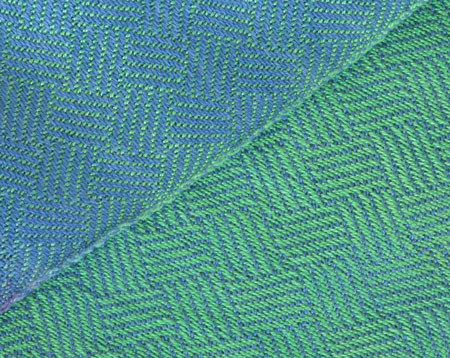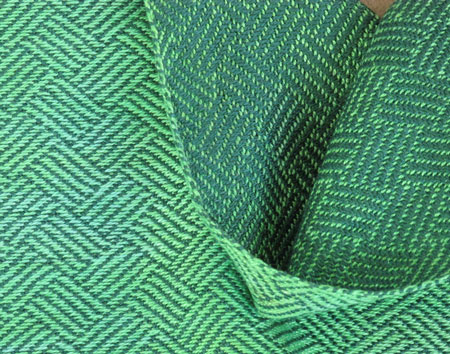 I also finished the baby blankets. Although I've previously done a polyester satin binding because I know babies like that smooth & silky feel, I've been told by others that it can tend to reduce the perceived value of a handwoven baby blanket. So this time I used a cotton weft for a rolled hem, putting a 'tag' made of that binding material at each corner for baby's fingers to grab and rub.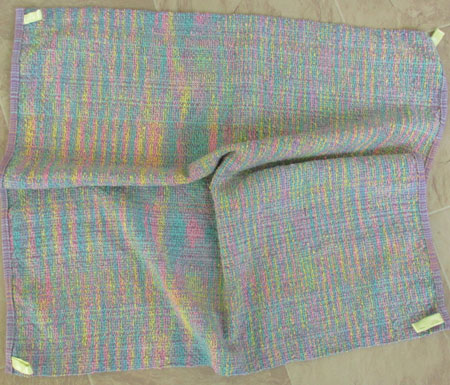 Closing with color….here are the appetizers I made for my daughter's Memorial Day party. Green & red peppers topped with a 'stuffing' of neufchatel cheese, lemon juice & lemon zest, black pepper, & almond meal, finished with toasted slivered almonds.