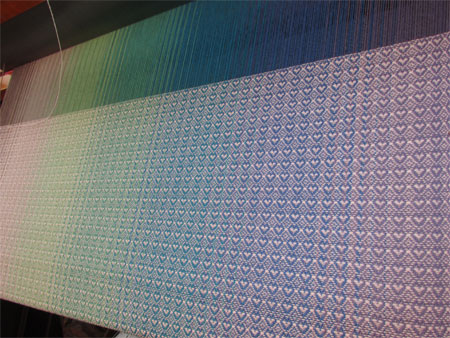 I admit it. For the past two days I haven't thrown a single shuttle. Why? I spent several hours visiting with friends, old and new, which was very nice. When I had productive time I followed my heart, and the inspiration of fellow weavers and bloggers Theresa (Runamuck Weaving) and Amanda (Weave Away) and worked on making Christmas presents. I can't tell you anything about them because everyone on my list will get some form of them, but I can tell you that after my 'work' time this weekend I'm about half done. Some things went quicker than I'd hoped, others more slowly than I'd wanted. C'est la vie.
I do have 2/3 of KG's first wrap, with white weft, woven. Above you see the wrap from the top of the loom, and here's a look as it rolls over the cloth beam…the other side of the fabric.

I am just loving these colors, from the top and the bottom. KG-do you have a preference for which is the 'right' side when I hem it?