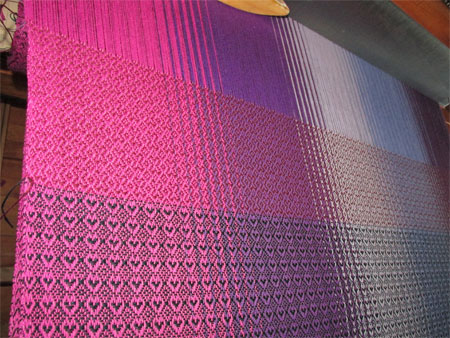 Usually when I'm weaving slowly it's because there's a problem at the loom – twisted threads, broken threads, treadles jumping out of their tie up, whatever. Or because I have other obligations – fund raisers, visits with friends & family, getting groceries, etc.
This time it's because I have a head cold. I'm taking all sorts of stuff – Umcka, elderberry, vitamin C, zinc, Get Well herbal tea, aspirin, echinacea, neti pot. Slathering my neck with Mentholatum at night. I'm confident that I feel better than I would if I wasn't doing all that stuff. Still, I'm mostly just tired. Wrung out. Lying down a few times a day but not able to sleep when I do.
So I'm spending less time at the loom and throwing the shuttle more slowly than usual when I'm there. Still, I am making progress on MM's wrap. I'm about 2/3 of the way through it. Maybe I'll finish today. Maybe not until tomorrow. Either way, the end is in sight.