I got the 5 shawls fringed, wet finished, pressed & labelled, ready for the show this weekend. If this show goes like my last 2, I'll return home with fewer shawls than I left with, so here's what may be your only view of them.
In order of weaving….first up is a silk shawl in a rather traditional snowflake twill. The warp for all 3 silk shawls is a natural, undyed silk; for this one I used a warm, light brown weft.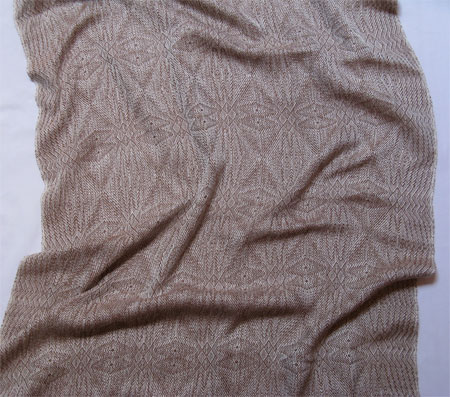 Then, as planned, I changed the treadling and used a twilight blue silk weft. I definitely prefer this treadling pattern, although I think I'll change the threading before I use a snowflake again.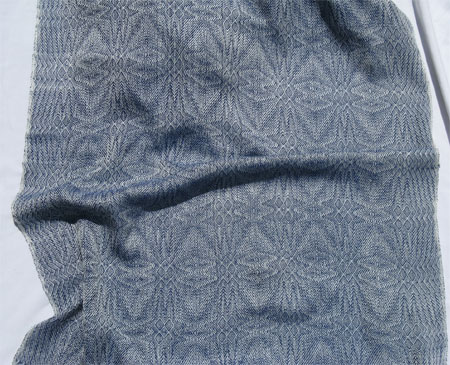 Finally, I used a 50-50 blend of cashmere & silk in a lovely, light lilac. Here it is in close up to show off the pattern — the same modified treadling as the twilight shawl. This is the first time I've used that cashmere-silk as weft only, and it won't be the last. I really like it.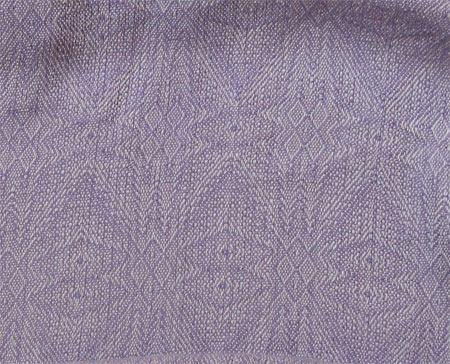 Next, as planned, I put on a cotton warp similar to my huckish shawls of a few years ago. I intended to make the warp a few inches wider, but miscalculated and ran out of the orange cotton. Here it is with a dark coral weft.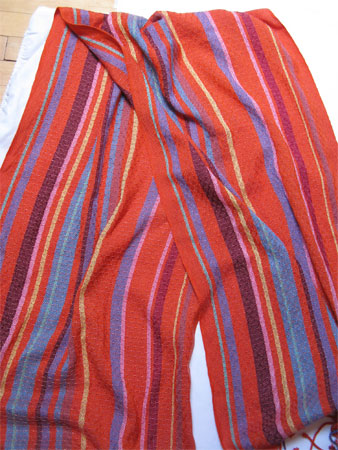 And here it is with a cherry red rayon weft. I have to say this is the photo with the least realistic color. Tried several times.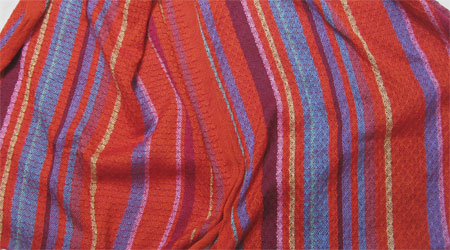 Then I did get the MY-JM baby wrap threaded through heddles and reed. I couldn't go any farther because I had to spend TWO HOURS messing with my rigid heddle loom to prepare it. I'd put on a warp that was nothing but problems, for a variety of reasons that I caused myself, but I really liked it and wanted to use it. So I unwound from the back beam and on to the cloth beam, messing with tangles the entire length. Retied on the back beam and re-wound. Unwove the 12 or so inches I'd already woven. Untied & retied on the cloth beam. I THINK it will go smoothly for my demo this weekend, but if not, it's all gonna go in the trash.